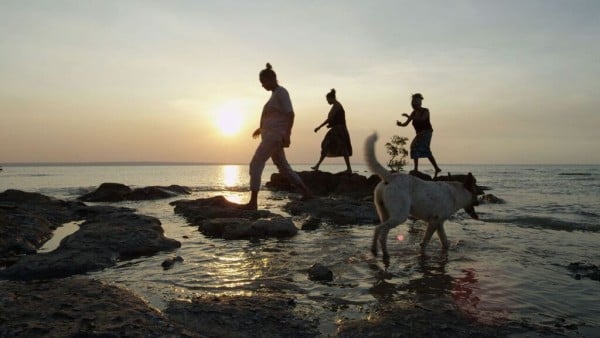 Three sisters, raised in Brisbane, return to Arnhem Land to mount a fight against a major corporation threatening to destroy their land. Doesn't exactly sound like the plot of a typical reality series, does it?
But that's exactly what makes new three-part doco Stringray Sisters a must-watch; it's unlike anything you've seen before.
Directed by Katrina Channells, the crowd-funded series was shot over four years on a minuscule budget of $40,000 with the simple aim of offering viewers a rare insight into life in a remote Indigenous community.
This happens through the lens of three twenty-somethings, Noni, Alice and Grace Eather, sisters and proud Kunibídji women, who face off against a petroleum company that plans to explore for lucrative oil and gas deposits throughout their birthplace -Maningrida in Arnhem Land, NT.
"I'm angry, frustrated, I feel sad. I'm terrified at the same time," says Alice, the middle of the three. "That's a word I hear from a lot of Mob that I speak to – they're terrified."
Not only will this be physically destructive to the life-sustaining local fishing grounds and to culturally significant sites, it will be a massive blow to Maningrida people – particularly elders and community leader like their mother, Helen Djimbarrawala Williams.