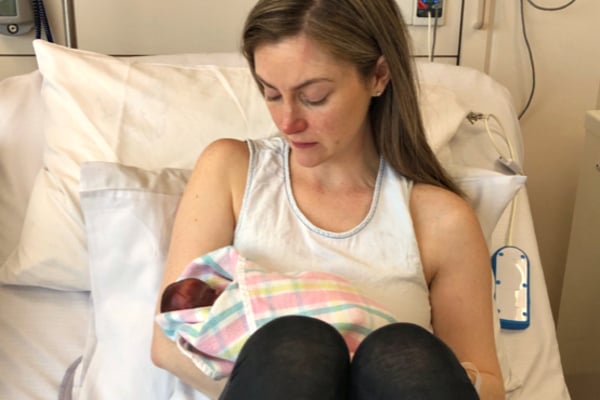 If you or your partner has experienced pregnancy loss, support is available. Please call the SANDS National Support Line on 1300 072 637.
Adelaide mum Annabel Bower delivered her fourth child, Miles, in December last year, and like many proud mums, she soon after posted a series of photos of her newest baby to let everyone know he had arrived.
But the loving announcement included the detail that Miles had been delivered stillborn.
"He is my fourth child but unlike my older three I never got to bring him home with me," Annabel captioned photos of Miles in the moments after his delivery.
"I will forever see an empty seat at my kitchen table and wonder what our gorgeous boy would have been like and grown to look like.
"Saying goodbye to Miles is the hardest thing I've ever done."
Annabel, already mum to Alfie, nine, Ted, eight and Bonnie, three, knew that her devastation was too significant not to share.
"My initial reaction was to hide. If I didn't tell people, maybe this wasn't happening. If I didn't talk about it perhaps the all-consuming grief and heartache would disappear too."
But her love for her "much wanted" baby, a child she had very much planned for with husband Josh, prevailed.
"The arrival of each of my other children was announced with great joy, this is obviously so different but our beautiful Miles deserves to be celebrated like the others," Annabel explained.