It was the comment that left everyone feeling a little confused and angry.
At a press conference with Australian cricket captain Steve Smith on Thursday night, Intern Pete from KIIS FM's Kyle and Jackie O Show stood up and told the distraught sportsman, "what's actually been worse is what Davina and Dean did on Married at First Sight."
Um, what?
The comment was clearly in bad taste, given everything Smith had been through in the wake of the ball tampering scandal, and while the Australian Radio Network may have downplayed the remark, Cricket Australia has come back fighting.
Just two days after Intern Pete's comments, Cricket Australia confirmed they would no longer be advertising with the ARN.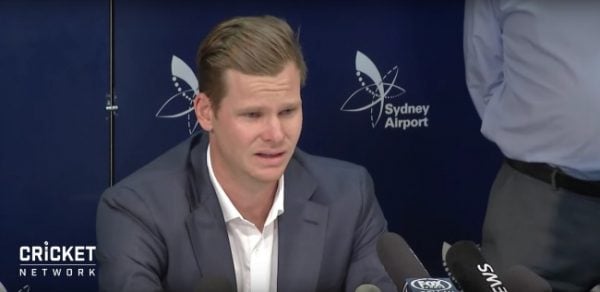 And now the man who started it all, Intern Pete - real name Peter Deppeler - has gone into damage control, trying to explain his comments.
"As everyone watching at home saw, the solemnness of the moment was extraordinary," he told News.com.au.
"To many, it held a lot more intensity than one would expect for a sporting incident. Steve was so upset which surprised everyone in the room and I just wanted to let him know that it truly wasn't the end of the world."
He added that he wasn't trying to trivialise the situation or make Smith, 28, feel any worse about what had happened.
"It wasn't my intention to make light of his personal situation, but to show him that the millions of Australians who aren't obsessed with cricket empathise with him. But timing is everything and, on reflection, it wasn't the best time to ask that."
LISTEN: We're outraged about cricket, but not an NRL player who has been done for domestic violence? Post continues below.
Deppeler said "this wasn't a set up stunt" and he didn't even think there was going to be a press conference as he made his way to Sydney airport.
He thought Smith might just walk by him, and he'd have an opportunity to "call out a question to him".
"Coming from all the Australians who don't follow cricket and find it fascinating and even concerning that so much pressure has been placed on these players like Steve, I really did just want to inject a moment of light and warmth to what was such a serious situation," Deppeler said.
"All week everyone had been acting like he was a criminal and I wanted to show him that many Australians don't think the world has ended because of this tampering incident."