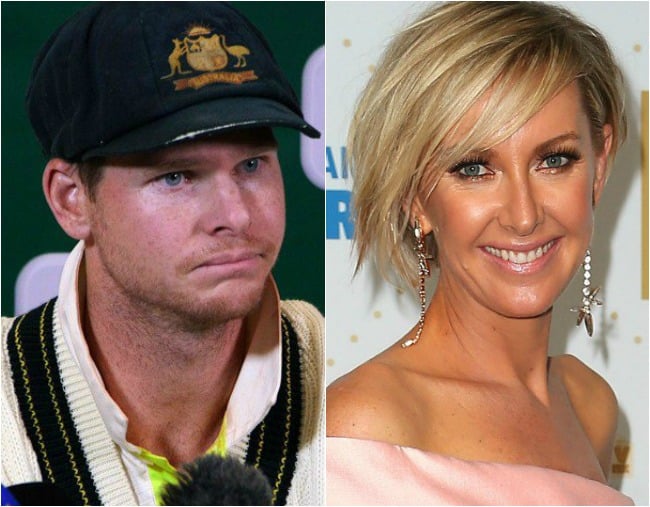 Around the country on Thursday, thousands of kids were upset to see their cricketing hero Steve Smith break down as he apologised for the ball-tampering scandal that shocked the nation.
One of them was Channel Nine presenter Deb Knight's nine-year-old son, Darcy, who was in tears watching Australia's former test cricket captain attempt to explain what led the team to cheat.
After consoling her son, the Weekend Today host encouraged him to send a letter of support to Smith and then sent a tweet suggesting other parents ask their kids if they'd like to do the same.
What she didn't expect was for Steve Smith himself to reach out to her.
The 28-year-old, who said he took "full responsibility" for the decision to tamper with the ball in Australia's third test match in South Africa on 24 March, sent Knight a direct message on Twitter.
"Could you please apologise personally to your son for me?" Smith wrote. "Sorry that I made him upset also."
Touched by the message, the 45-year-old told Brisbane's 4BC radio listeners she appreciated his words.
"I'm astounded and really pleased to see that he is taking on board all that we've been talking about here," she said.
"Steve, you've given me goosebumps. I know you're at rock bottom, and I know you have a long way to go, but I admire you for accepting that you have done the wrong thing and accept your punishment.
"And thank you for reaching out because I'll pass that message on to my son."
Can we choose what we are outraged about when it comes to sport? Mamamia's Holly Wainwright on the story no one's talking about.
Knight said she hoped that letters from kids around the country reached Smith and "meant something" to him.
"My son admires and loves you regardless of what's happened and I want that message to reach you directly in letter form, which it will do from my son Darcy."
In Smith's press conference, he also gave some advice to young fans that could be applied to all areas of life, not just cricket.
"Anytime you think about making a questionable decision, think about who you're affecting."
Watch Steve Smith's emotional press conference.