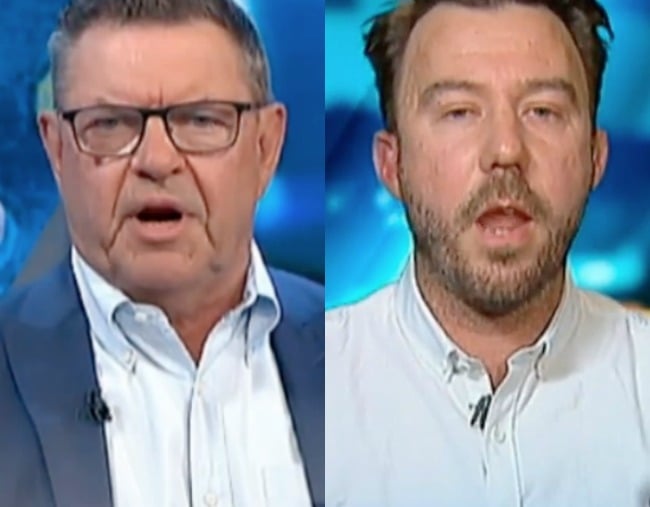 With AAP.
1. Steve Price's awkward stoush with pill-testing campaigner on The Project.
Steve Price found himself the centre of an awkward stoush on with a harm minimisation expert on The Project on Monday night, in the wake of the country's first pill-testing trial in Canberra at the weekend.
As the panel interviewed Matt Noffs, a drug expert from Harm Reduction Australia, the conservative radio host took over the line of questioning after Noffs commended the ACT's "enlightened" police force who were willing to trial pill-testing at the Groovin' The Moo festival in Canberra.
"We know how many young people are out there using drugs like ecstasy, but what are we doing about it?
"In ACT, you've got police who are enlightened and want to try a new approach so they were really happy about this as well," Noffs said, before Price jumped in with this own commentary.
"I'd hardly call police ignoring drug use enlightened but if that's what you want to stick with, that's fine," he said.
Nearly 130 participants of the festival took advantage of the service with the medical service testing 85 samples, according to the Ted Noffs Foundation.
When pressed by Price as to "how many" people who found their drugs to be "clean" threw them away, the duo's exchange grew tense.
"Sorry Steve, I don't know how many 'clean' illicit drugs you're taking, but I've never found a clean illicit drug on the black market," Noffs said.
"That's ridiculous, you know I'm not taking any drugs," Price replied.
"You do take drugs, Steve," Noffs came back. "You might enjoy a beer, but that's sold over the counter and you've got some sort of quality control around it."
The interview finished with Price refuting Noffs' claim that parents couldn't stop their kids taking drugs, saying it "worked with [his] children [who] don't take drugs", and Noffs calling Price a "liar" for saying he had never taken drugs in his life.
2. Private school teacher found guilty of grooming male students for sex could be deported from Australia.
A former Adelaide private school teacher who groomed one of her male students for sex could be deported after being given a suspended jail sentence.
In the South Australian District Court on Monday, Bettina Schmoock was jailed for 22 months with a non-parole period of 11 months.
However both terms were suspended with the 42-year-old placed on a three-year good behaviour bond.
In sentencing submissions last week the court was told while no sexual activity ever took place, Schmoock had booked a cottage for an encounter with the boy and that her actions could not be considered "mere fantasy".
Defence counsel said she had been affected by a four-month-long hypomanic episode, as part of her undiagnosed bipolar disorder, at the time of the offending.
In sentencing, Judge Gordon Barrett said he took into account Schmoock's mental health at the time and that she was unlikely to be able to teach again.
He said he also gave some weight to the apprehension and anxiety caused by her possible deportation with the mother of two not being an Australian citizen.
But he said it would be wrong for him to speculate on the likelihood of her being returned to her native Germany.