Warning: this post deals with violence against women and may be triggering to some readers.
It's been reported by The Daily Mail this week that Rose Jacobs has taken out an Apprehended Violence Order against her estranged husband, television presenter Steve Jacobs.
One would think that this news report would be sad for the public to read – to contemplate that there could have been enough evidence of threats and/or violence from Steve against Rose that the situation met the criteria for an AVO to be granted.
But apparently, to some people, it's not as sad as much as it is her fault – according to online comments in response to The Daily Mail article.
Former Today Show weather presenter Steve, 51, and his journalist wife Rose, 39, were married in 2010, and have two children, Isabella and Francesca. They moved from Sydney to Vanuatu in January 2017 for a "sea change" as they called it at the time, but reportedly separated at the end of the year. Rose has since been linked to 32-year-old Canadian and Vanuatu resident, Dylan Nash.
Mamamia reached out to Rose and Steve for comment, and at the time of publication, neither had responded.
There's been intense public interest in the break-up of the high-profile couple, and so news of an apparent AVO was always going to incite further speculation – and that's exactly what happened in response to The Daily Mail piece.
In the comments section, user 'icutthroughthecrap' in Sydney queried, "Was there any physical confrontation, or is she just a drama queen?"
'MarkandMary' in Melbourne observed, "So sad that there so many men are being pushed to such terrible behaviour by the despicable acts of their partners."
User 'Wisterialane' in Thailand wrote, "I'd say the AVO was taken out when Steve found out there was a 3rd cog in the wheel. If it's any consolation, the new relationship will fizzle out shortly, she could pass as his mother. She's a control freak."
On Thursday morning, that particular comment had been liked 222 times.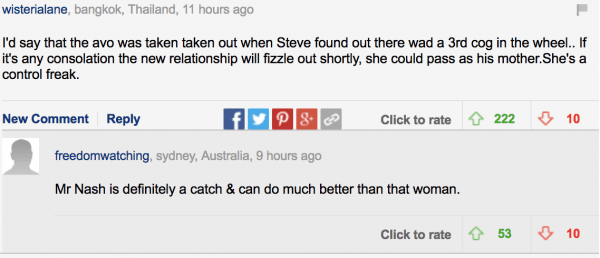 So. We're still doing this, are we? In 2018, we're still blaming women when they claim they are victims of domestic violence - even after a court has reportedly validated a serious threat?
The lack of empathy is one thing - but the ignorance about violence against women defies belief.
Of course, we don't know what's actually happened between the couple behind closed doors. So let's look at what's been reported: that an AVO was granted against Steve where the former couple resides, in Port Vila, Vanuatu. If that report is true, it's important to consider the elements of an AVO. The criteria for obtaining one varies slightly between jurisdictions, but an AVO is usually only granted when there's evidence of genuine threats of harm or harassment from one party, and the other party has a reasonable cause to be fearful. The applicant has to convince a court of both.
That's a simplification of the law, but there's no need to get into the legal jargon here, because any sensible person knows that AVOs are not handed out like lollies at the doctor's office. An applicant needs to work hard to get one.
There would be legitimate reasons why Rose was reportedly successful in obtaining an AVO against her estranged husband, and they would have been decided by the Port Vila Magistrates Court - not by the court of public opinion.
The shaming and disbelieving of alleged domestic violence sufferers: these are integral parts of the reason why violence against women is such an extensive problem. According to White Ribbon Australia, "one in three women have experienced physical and/or sexual violence perpetrated by someone known to them" according to the Australian Bureau of Statistics in 2013 - and that statistic remains steady.
Victims are scared of the perpetrators, and they are also scared of people's reactions; so many of them stay in dangerous relationships longer than they want to. With attitudes like the ones displayed by the above commenters, is it any wonder why many women don't leave earlier?
In 2018, why is there still such a stigma attached to victims of domestic violence? Why do we still blame women for driving men to violence?
Because there are obviously some sections of society that still hold archaic beliefs about women and their role in 'keeping men happy'.
For that reason, Rose's alleged relationship with Dylan Nash was inevitably going to be discussed. In the comments section, Rose was compared to Karl Stefanovic - another high profile media identity who's also recently left his marriage and found love with a younger person. On that point, 'JustKiddingNot' from Melbourne said:
"She is not seen anywhere near as bad as him...reverse double standards?"
Which is problematic because it implies that the person who did the leaving must be 'the bad one' - the only one at fault.
Anyone who's ever been through a divorce or separation knows that's simply untrue. It retrospect, it's obvious that the Jacobs' move to Vanuatu was an attempt to salvage their family - the couple were trying everything they could to save their marriage - including moving timezones.
Last year, Rose opened up about that sea change. Writing a blog piece, she explained their move; "something wasn't right" in their family, and their life in Sydney was only perfect "on paper." They wanted to see if things could be better away from their usual pressures.
The moment Jelena Dokic picked up a racket, her life changed forever: Jelena Dokic is Unbreakable about when the abuse from her father started. Post continues after...

But it wasn't better. The marriage couldn't recover.
And so what we have here is the unfortunate story of a couple who tried very hard, but in the face of a number of complicating and personal factors, couldn't make their marriage work.
We do not have a woman who drove her husband to behave in a way so dangerous that she, and her children, needed protection from him. How do we know that, if we don't know the facts? Because that situation is impossible.
No one is ever responsible for another person's behaviour, especially not threats or violence.
And like it or not, in the Jacobs' case, if an AVO was granted against Steve, a court of law has ruled that the person responsible was not Rose.
If this post brings up any issues please call 1800 RESPECT (1800 737 732) – the national sexual assault, domestic and family violence counselling service.