For the third year running, fashion designer Stella McCartney is telling the stories of women who have been diagnosed with breast cancer as part of Breast Cancer Awareness month.
The campaign, called #NoLessAWoman, features images by photographer David Jay, a fashion photographer who began taking images of women at different stages of breast cancer when a close friend was diagnosed in 2005 at just 29 years old.
David's SCAR Project (an acronym for Surviving Cancer Absolute Reality) now features the portraits of 100 women and this year, mother of two Shannon is sharing her story for the first time.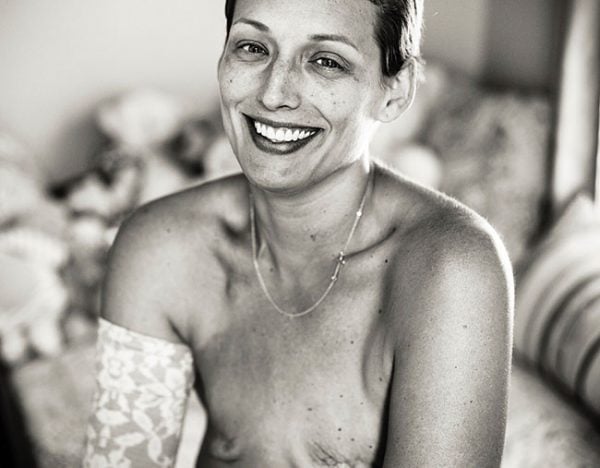 Writing on the designer's website, Shannon said that on October 27, 2016, she was first forced to confront a reality in which she had cancer.
"I had started a new job around 6 weeks before, was still breastfeeding my (then) 8-month-old daughter, caring for my 2.5-year old and just feeling on cloud nine," she wrote.
"Everything was clicking into place in my personal life. Sure, there were the day to day struggles and life, but I was happy."
LISTEN: Jane McGrath's best friend Tracy Bevan explains how the McGrath Foundation began and the work it does.
While breastfeeding, Shannon developed mastitis. Although antibiotics helped with pain and swelling, she noticed there was still a lump on her breast.
"I am a nurse. I chalked it up to residual inflammation and that it would eventually go away. So, I ignored it... for about 6 weeks," Shannon said.
"I came home from work a few days prior to diagnosis and was playing on the floor of my infant's nursery with both girls. I was lying flat on my back. I looked down and my right breast was a completely different shape than my left.
"When did that happen???
"I had ignored the warning signs. I never looked in the mirror and never did exams lying down. For me, [my lump] really only was pronounced when I would lie flat on my back."
Scans and biopsies revealed Shannon had "Stage 3, Triple Negative, Invasive Ductal Carcinoma, High Grade". She was just 30 years old.
Despite undergoing 16 rounds of three different types of chemotherapy, lymph node dissection, 28 rounds of radiation and a double mastectomy, Shannon views her cancer as "a blessing".
"Who else gets to prioritise their life at such a young age? Without truly facing my mortality and realising just how fleeting life is, I probably wouldn't enjoy it as much," she said.
"My children's laughter is the most beautiful sound on the earth."
Shannon also decided she would not reconstruct after her double mastectomy, choosing instead to stay "flat and fabulous".
"This is me now... I am proud of my 'battle hardened' body. I no longer see stretch marks or my C-section scar. I don't linger on the cellulite or the extra weight that I am still carrying around from all the steroids they have pumped through my body," she wrote.
"No hair? No problem. My body is AMAZING and I am PROUD of it and all it has accomplished in its short 31 years.
"Life is still throwing me curveballs that I never expected, but cancer has prepared me for anything. Bring it on life, bring it on."
As part of the #NoLessAWoman campaign, Stella McCartney has designed a special post double mastectomy compression bra - the Louise Listening bra - with the hope of supporting and comforting women who have undergone a double mastectomy.