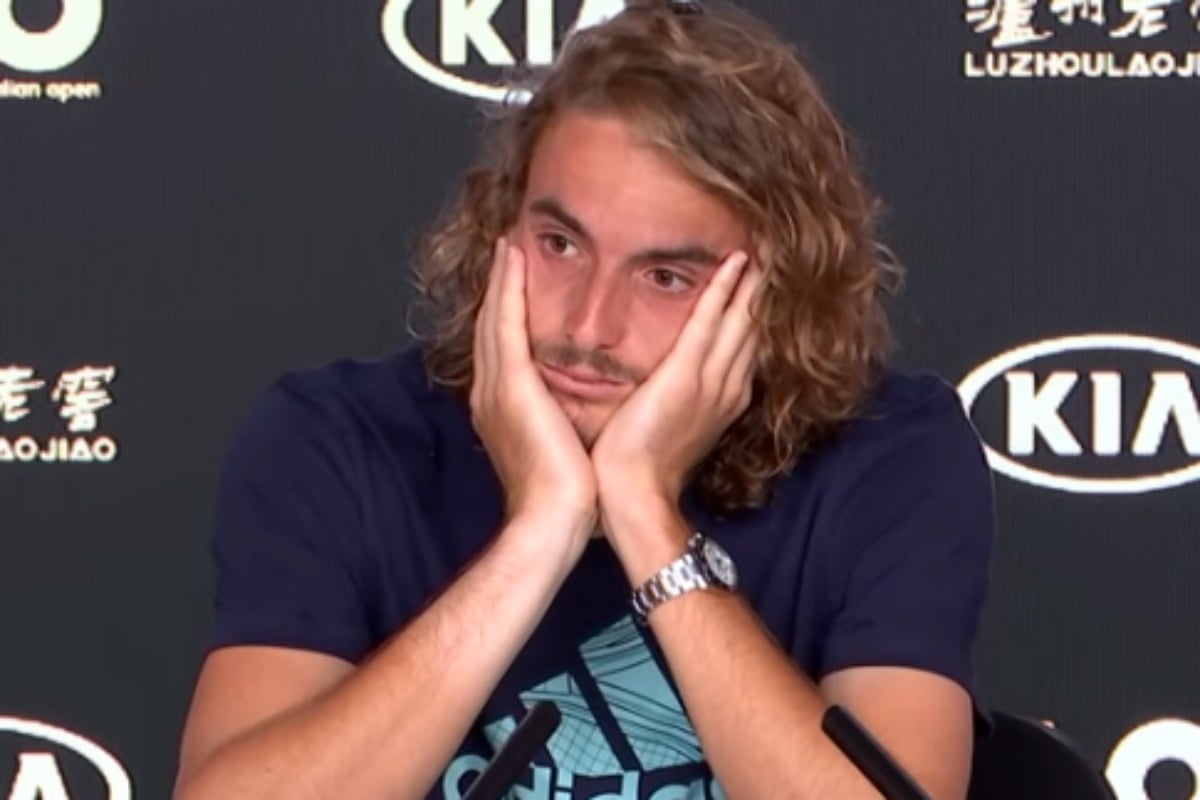 Less than a week ago we were celebrating alongside Greek up-and-comer Stefanos Tsitsipas over his shock beating of 20-time grand slam winner Roger Federer in the Australian Open's fourth round.
On Thursday night, however, it was an entirely different mood post-match for the 20-year-old, who was still processing his disappointing 2-6, 4-6, 0-6 semi-final loss to Rafael Nadal.
Tsitsipas looked utterly devastated as he answered questions about the match, which ended with domination from Nadal.
The world No. 15 attempted to explain what we all saw on the court – that he just didn't play his best.
"The whole match felt weird from the very beginning, my body was stiff, he (Nadal) just has a talent to make you play bad, that's it," he said.
"I felt kind of empty in the brain. I felt my reaction time was slow, like everything was not that alert.
Tsitsipas struggled to understand himself how he could have beaten Federer, then overcame Roberto Bautista Agut in the quarter-final, only to lose to Nadal in such a convincing way.
Almost gone were Tsitsipas' aces – serving just five, compared to the 22 he served against Bautista Agut. Meanwhile, the world No. 2's serving was as strong as ever, with the Greek only managing one break point the entire match.
"I really don't know how to explain this [loss]," he told reporters. "I guess from the match that I played before or the whole week that I played here."
"I'm just trying to understand what has gone wrong today. I cannot find an explanation for that."
Tsitsipas offered some insight into how the Spaniard managed to unsettle him.
"It felt like a different dimension of tennis completely. He gives you no rhythm, he plays a different game style to the rest of the players, he has this talent … he makes you play badly. I don't know why."
The rising star was so dejected he could barely even speak positively about what an achievement it was to make it to the final four.
"I have no idea what I can take from that match, it's not like I was even close to getting something," he said.
"I feel happy with my performance this tournament but at the same time I feel disappointed, I feel like I could do a bit better today.
"It's a very, very weird feeling, I almost felt like I couldn't play better. I really can't think of something positive from that match."
Nadal will now go on to play the winner of Novak Djokovic and Lucas Pouille, who play Friday night, in the final on Sunday.