I was fresh out of a messy six-month-long relationship when I decided to see what Tinder had to offer.
Lucky for me, all the good swipes came up first shot and before you knew it one really attractive guy messaged me. I open the conversation and found that he sent me a GIF of Joey Tribbiani saying, "How you doin'?"
Not sure if it was the fact that I love Joey – no one can resist that line – or if I was super pleased he sent me a Friends GIF, I responded with my own GIF of Rachel. Back and forth we sent Friends-related GIFs for about an hour and then he finally send me a proper message. He asked for my Snapchat, which usually I don't give out… but I also wanted to make sure I wasn't going to end up on the next episode of Catfish.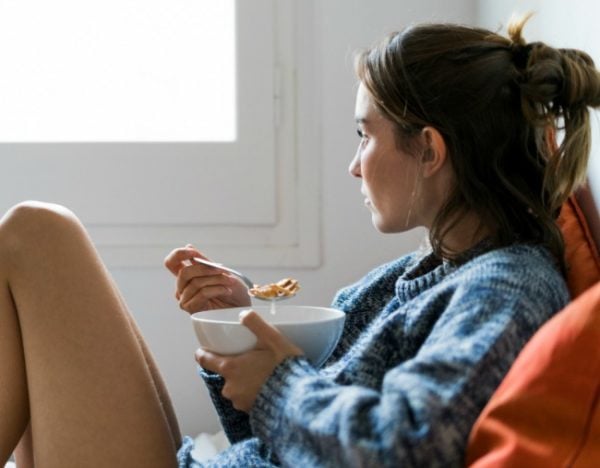 Within 24 hours of being friends on Shapchat, I was thrilled to report that there were no gross penis photos (an anomaly, in this day and age) and that he definitely wasn't Catfishing me. After a couple days of Snapchatting, we organised to meet.
One rather unfortunate allergic reaction (that gave me lips of Kylie Jenner proportions) and two bouts of sickness later, 15 days managed to pass before we got our act together; 15 days of talking, bonding and getting to know each other.
It was a Saturday night, and I had a cold so bad I had to take the day off work and bail on a 30th birthday party. He had work and was then going out for drinks with his mates. Around 10pm I started to feel slightly better and less clogged up.
"I really wish you could have been out tonight," he messaged me. I so wished that too. I messaged him saying I could just use a cuddle, and he said, "I'll come give you one later." It was 12:30am and I was still awake when he messaged me.
"I'm bored, I'm going to come see you."
I was full of mixed emotions. I mean I wanted to finally meet him, but like this? Half-snotty, middle of the night and not looking great? Not exactly ideal.