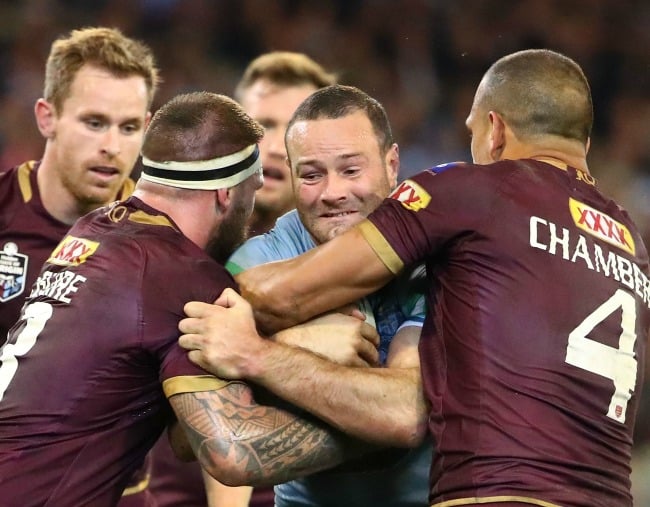 For twelve hours, from 6pm this evening, Australia's women and children are at more risk of harm than on almost any other Wednesday evening of the year.
Emergency services know this. The police know this. Hotels and pubs around the country certainly know this.
Because from now until 6am tomorrow morning, we'll be riding through one of the few days in the year when incidences of domestic violence surge by 40.7 per cent.
It's such a specific number – 40.7 per cent. But behind that clumsy statistic sits a lot of women's stories. A lot of children's trauma.
Because that's the amount by which a years-long study has found incidences of domestic assault rise because of one, regular football match – the State of Origin.
Rugby League's annual "state-against-state, mate-against-mate" clash – New South Wales vs Queensland, in case you're from, you know, somewhere else – is played three times a year. Usually, the games are held on a quick succession of wintery Wednesday nights and the New South Wales Bureau of Statistics last week released figures gathered over six years that told us that on those Wednesdays, women and children were more than 40.7 per cent more likely to be assaulted by a male than on any other Wednesday night.
Read more: The NRL just defended this viral State of Origin photo with three powerful words.
"It's crystal clear that the State of Origin fixtures are leading to a surge in domestic violence. It's happening on the National Rugby League's watch and women and children are being harmed as a direct consequence of these games," says Michael Thorn, Chief Executive of the Foundation for Alcohol Research and Education.
But it's not only on Rugby League's watch. The soccer World Cup, being played on the other side of the world right now, is a celebration of "the beautiful game" that sees women at higher risk of assault over the full five weeks of the competition. For example, a recent UK study saw that family violence incidents rose by 38 per cent when England lost a match. The Superbowl, the most-watched sporting event in the world, chose to screen a confronting PSA created by the American Football League about domestic violence in this year's infamous half-time celebration, no doubt in response to the ongoing discussion around whether that event, too, causes assaults to spike.
And in fairness, it's not only women and children who are more at risk tonight. It's everyone.