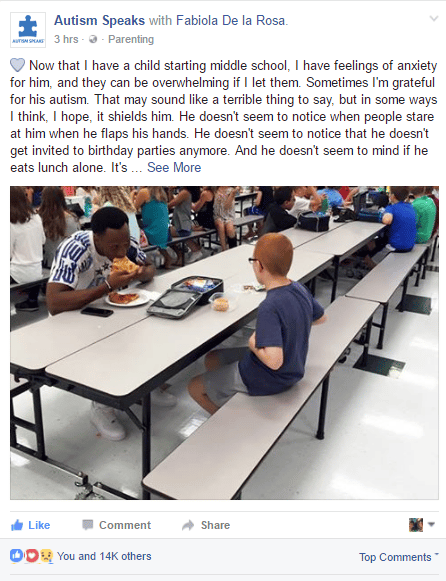 When you have a child with autism you feel constant anxiety at everything new they face – beyond what you feel for a neuro-typical child. You want with every fiber of your being to make their adjustment to all that is new and different as smooth as possible. Unfortunately when it comes to autism, nothing is ever easy.
Visions of your sweet little child sitting alone during recess and lunch force their way into your head several painful times a day. Sometimes it seems they don't even notice until they say – while looking anywhere except into your eyes – that nobody sits with them and they don't know why.
Giovanni, 8, who has Autism Spectrum Disorder, participated in this video on bullying. Article continues after this video.
Autism mum Leah was feeling exactly this way at the prospect of her son starting middle-school (when children are aged 11-13 in the US) until a school-mum-friend sent her a photo with the message, "Travis Rudolph is eating lunch with your son."
Leah wrote about it on the Autism Speaks Facebook page: