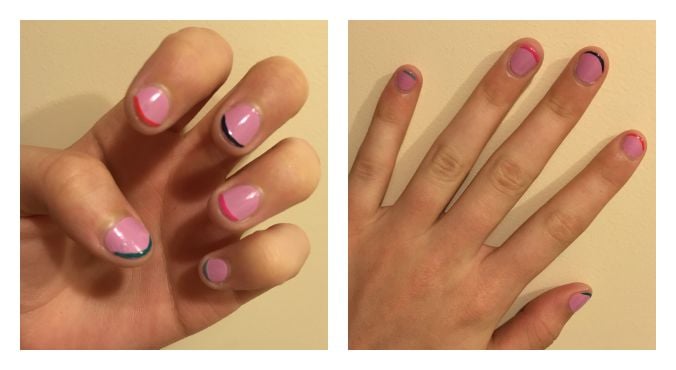 Image: Rainbow tips are perfect for spring (supplied)
Spring is here, which is the ultimate excuse to embrace kooky, colourful nail art. With a few handy tools and a flick of the wrist, you can wear all the spoils of springtime — fruits! Flowers! Rainbows! Donuts! — on your very own hands.
'But I have absolutely no mani skills!' we hear you cry. 'I'll never be able to do this myself!'
Well, you might be surprised.
Recently, DARE Nails sent two manicurists, Casey and Heather, to The Glow HQ to school us all in the art of chic, sweet nails… that don't require an actual visual arts degree.
Our intern Maddison bravely volunteered as tribute, and we watched in awe as her nails were turned into sprinkled donuts and coloured tips. (Post continues after gallery.)
The best part? Casey and Heather swear you don't need any special skills in order to pull these looks off. However, if you want the best chance of success here's what they recommend:
Expert nail tips
1. Invest in a 'striping brush'
This is what was used to paint on the coloured tips and donut sprinkles styles in the video. Heather says a striping brush "makes everything simple" and that you can buy them everywhere, even art supply stores. Otherwise, a toothpick is a good alternative.
2. Let everything dry
It's important to let each coat of polish — even the tiny details like the sprinkles — dry for one or two minutes before applying another. If you don't, your top coat could 'drag' the donut sprinkles you've meticulously applied, while the rainbow tips could seep in to your base colour. Not ideal.
3. Always use base coat
Yes, it's another step in the process, but if you don't use a base coat the coloured polish could discolour your nails. Nobody needs that in their lives.