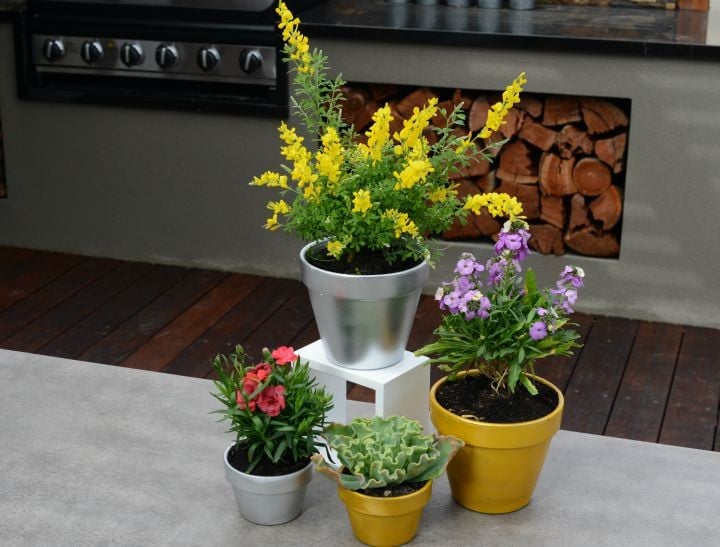 What are you still doing under that doona?
It's Spring, people. Time to toss aside those dark clothes, fluffy blankets and hot water bottles.
It's time… if you are anything like me… to start looking around your home and getting some itchy fingers to add a bit of something-something to your home. Especially if you make a habit of drooling over the spring pages of Vogue Living, like myself.
But… if you are anything like me… poor… then you can't really go wild on the credit card. (I'm pregnant, expecting a baby any day now and I've heard those are very expensive).
Luckily, I've stumbled on some Pinterest-worthy decorating hacks without the 20-step complications to get some of the latest trends into my home (in fact, I've even been able to use some stuff that has been lying around).
1. Metallic plant pots.
This season it is all about shiny metallic. Unfortunately, some metallic pots cost a bomb. Fortunately, they don't have to.
Check out this video (instructions continue after the video) and you can pick up all the materials here.
Tools.
A drop sheet or old bed sheet.
Dust mask.
Gloves.
Terracotta pot.
Spray primer.
Metallic spray paint (silver or gold).
Towel.
Plant and soil.
Instructions.
1. Find an outdoor space and a drop sheet (or old bed sheet you can surrender to the craft gods). Make sure to also use a dust mask and gloves. Safety first, you know. Plus you look more professional this way.
2. Place the pot in the middle in an upright position.
3. Using the spray primer, spray the inside of the pot and then tip it upside down to do the outside. Let it dry.
4. Now grab your silver or gold metallic spray and spray the inside and outside of the pot again.