When Perth mum Lisa Duffield signed her son Boyd up to play cricket for the first time, he was six years old and struggling to understand instructions. Now the young man has played for Australia and experienced benefits from the sport far beyond the cricket pitch.
Lisa said Boyd, whose intellectual disability became apparent at four years old, was desperate to play cricket "just like his older brother" Scott and when he was around six years old he joined the local MILO in2CRICKET kids program.
"He's always been quite sporty and had good ball skills and he's always been a real trier and everything his brother could do he could do and he wanted to be included with the other guys," she told Mamamia.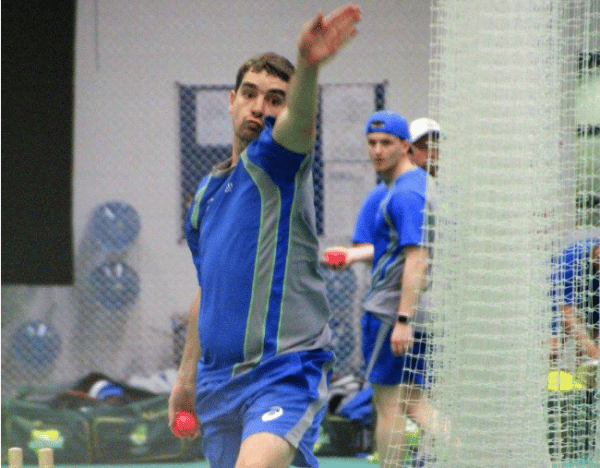 "Boyd had behavioural and speech issues back then - he still can occasionally. So it was beneficial to him to be around other kids and take instructions from other adults, like the coaches. I did notice a difference in his behaviour."
"Sport certainly helps your confidence... And also it keeps kids fit."
Lisa found that it's also beneficial for parents when children with disabilities get involved in a team sport, adding that Boyd also plays in an all-abilities division for a local Aussie rules football club.
"It gets the parents out socialising because sometimes it's quite isolating for the parents, feeling like they can't be included in an activity. Most sporting clubs are very welcoming.
"It gives them an outlet and a chance to mix with other parents who are going through the same issues."
Listen: On This Glorious Mess we discuss the curious case of the 100kg 7-year-old who got kicked off his rugby team.

For Boyd, now 23, the best thing about playing cricket is the friends he's made.
"I like bowling batting and getting to know all the other players," he told Mamamia, adding that a highlight has also been meeting people from other countries.
"I like sport and I have friendships with other people and I do things and I have new mates.
"It's important for me to feel like I can play sports with my brother."
Boyd's childhood love for the game only deepened as his passion and skill took him to Melbourne in 2015, and this July to England to represent his country in the INAS Tri-Series against the hosting country and South Africa.
He's also represented WA in the all-ability division in the national championships on top of playing for his local cricket club - the Mount Lawley-Inglewood Panthers.
"(The national and international competitions) are something to aspire to because they watch the Big Bash League on TV and they're just like regular kids who want to be like them," Lisa said.
"These disability competitions now - the opportunity that Cricket Australia is giving them -  allows them to be just like regular people."
Lisa added it's not all been smooth sailing though. She can clearly remember running around after a young Boyd on a cricket oval while other mums sat on the sidelines watching their kids, and wishing she could do the same.
She also says all-ability cricket leagues face a lack of funding and sponsorship, which makes it harder for players to afford to cross the country for the national competition.
However, she says cricket has been overwhelmingly positive for Boyd, and encouraged other parents - whether their child has a disability or not - to get their children to give team sport a try.
She also says it's beneficial for abled people to mix with those with intellectual disabilities in a relaxed, sporting club setting.
"When (people with a disability) first started going to (Aussie rules football) clubs we could actually see the regular guys quite nervous of them and didn't know what to talk to them about and it tended to be them on one side and us on the other."
"Now we've got the regular guys coming to our games and having a drink with them after training and I think that's a really good, positive spin on getting people with disabilities involved."
"I think people just like Boyd because he's easy going."
Blowfly Cricket Program gives kids with autism, cerebral palsy and down syndrome the chance to play competitive sport. For all other kids, there are pathways available via Playcricket.com.au