You're spiralling through the endless scroll. It's littered with turn-you-green-with-envy pictures of exotic locations and delicious foods. Fashion. Travel. Active wear. Headphones. 
You're taking it in without even realising it.
Then… Then your thumb stops almost automatically. It's someone big – maybe a fashion blogger, or a travel photographer – and it's a cleverly shot, well-filtered photograph. In it, they're wearing a particular pair of shoes, or there's a hiking jacket casually slung over one shoulder…
What are you thinking?? Where can I get myself a pair of those shoes? I'm sure I need a hiking jacket…
This is the business that has "influencers" making hundreds, sometimes thousands, of dollars per social media or blog post. And, come March 1, 2017, it's going to be illegal.
A new code of ethics from the Australian Association of National Advertisers (AANA) requires brands who pay influencers for a mention on social or traditional media have just four weeks to start disclosing it.
This includes native advertising, product placement and advertorial.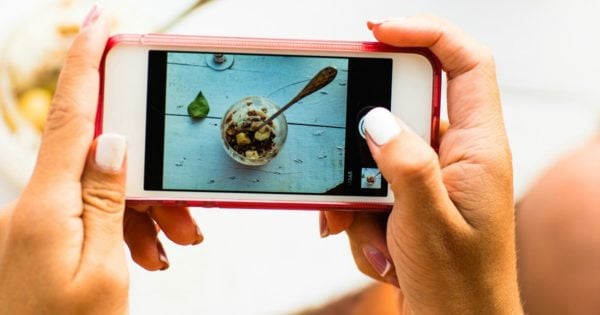 At the moment, Instagram bloggers or Twitter commentators can promote products or experiences, for example, without revealing the sponsorship behind the post.
Instead, the pair of shoes, or the high-tech hiking jacket (which happens to retail for a smooth $400) appear a part of the blogger's natural, everyday look and persona.
The most prominent example of this was when South Australia Tourism paid celebrities such as chef Matt Moran and singer Shannon Noll more than $750 per mention on Twitter in 2012.
"Bring on Kangaroo Island," Moran tweeted. "[I] saw the TV ad last night and makes me wish I was visiting sooner rather than later." Smooth, natural and convincing. No mention of the $750.
We're obsessed with this Instagram account that shows fierce, fab, man-repelling outfits. Post continues below.

The new guidelines will be enforced by the Advertising Standards Board, which is the watchdog funded by the ad industry. The AANA clause specifically states: "advertising or marketing communication must be clearly distinguishable as such to the relevant audience".
Where "clearly distinguishable" means brands can "not camouflage the fact that it is advertising".
At Mamamia, we're well aware of discerning scrolling thumbs. We don't take readers for granted.
For this reason, we have always, and will always, disclose when an article, video, podcast or social media post is sponsored. You can see a disclaimer at the top of the article, and the logo of the sponsoring brand at the top of the page.
This means your thumb can keep scrolling, trusting it knows the exact motivations behind every piece of content you see.