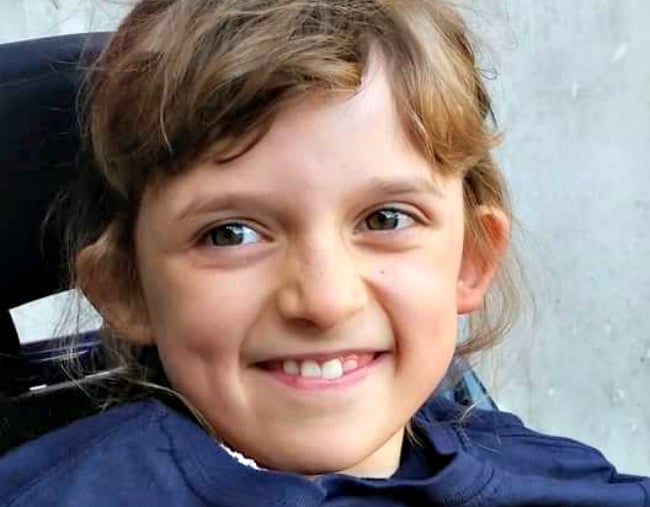 In Australia, more than 319,000 children live with all types of disability. Of those children, 12,000 live with a physical disability. My daughter Chloe, nine, is one of these kids. Chloe lives with a rare genetic condition called spinal muscular atrophy (SMA) type II.
Chloe was diagnosed with SMA type II, on 3 July 2009 when she was only 13-months-old.
SMA is a rare genetic disease and is the most common genetic cause of death in children under two years of age. SMA can cause paralysis and difficulty with the most basic functions of life, like breathing and swallowing.
The different types of SMA are based on age of onset and the physical milestones achieved – ranging from those diagnosed before six months of age who have a life expectancy of under two years, to those diagnosed in adulthood.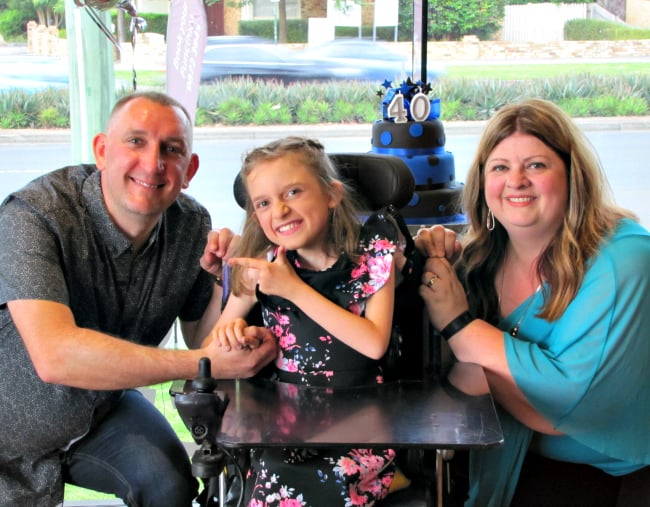 Sitting in the neurology department of the Children's Hospital in Melbourne, we found out our concerns that Chloe wasn't showing normal development were correct. Doctors told us of the altered lifestyle that our daughter Chloe would have.
Her lifespan was unknown, she would be wheelchair bound, and would have very limited movement. She would be completely reliant upon us to help her move from one position to the next. We also learnt that every SMA type II child is different in many ways, and that the future is unknown. It is, however, a disease with hope.
As a mother it was so disheartening hearing this. You carry a baby for nine months and think nothing is wrong: you have dreams and plans for this baby. This all fell apart.
We also learnt, as Chloe grew older, what little strength she had at 13 months would slowly diminish, to the stage whereby her major functions – such as swallowing and breathing – would be severely compromised. How long this would take was a great unknown.
Over the course of the next few years, we learnt firsthand the level of difficulty and challenges SMA brings.
Despite her challenges, Chloe has been enabled to grow and develop as any other child. She attends mainstream school and her set of friends are like every other young girl. All Chloe's friends know her, simply, as the girl in the wheelchair.
Chloe takes on each day on her terms. She does things the way she can. She understands that there are some things she simply cannot do, and focuses everything else on that she can. Sadly, Chloe cannot do many of the things that her friends can. Despite her very strong passion for gymnastics, Chloe can only watch her friends perform cartwheels and bendy stretches.
If something can be modified to enable her to perform a task, her school, her friends, and family will seek to modify anything to enable Chloe's participation.
She may get the occasional glance, or curious person, or even child. However, Chloe takes it all in her stride, and educates that person (sometimes, admittedly, even if they do not want to be educated), by telling them, simply:
"I have SMA type II. That just means I have weak muscles and can't walk, that's why I am in a wheelchair, but I can still do lots of other things."
For Chloe, the more people that she can teach, that a child with SMA type II, is still capable of doing things, the easier it is for her life.
What the mother of a sick child in hospital wants you to know. Post continues after audio.
National patient organisation SMA Australia recently launched a first-of-its-kind children's book, Zac's Play Day, at Melbourne Zoo to foster empathy, inclusion and acceptance for those Aussie kids living with disabilities such as SMA.
Chloe and I were proud to attend the book launch, with so many other families living with and impacted by SMA, to explain the important role other children at school play in ensuring every day is fun and rewarding for their less physically-able peers.
The book launch of Zac's Play Day goes a long way towards helping children like Chloe, and to educate all those around her that despite having SMA, she is just like every other child.
It gives her peers, friends and family, as well as other parents, an introduction to SMA, and helps raise awareness and start conversations. I am the type of mother who is happily-proactive with a lot of things, and very willing to talk about or explain SMA, by sharing our knowledge of this disease.
Chloe turns 10 this year, and we give her as best a quality of life as we can. We hope in the future things improve for SMA in time, however, for now we do as much as we can for her.
You can find out more about SMA by visiting the Spinal Muscular Atrophy website.
Shout out to all Dads! Here at Mamamia we are always looking for ways to make Mamamia even better. Dads, we need you to help us do that by filling out this quick 15 min survey for us. Click the button below for your say.