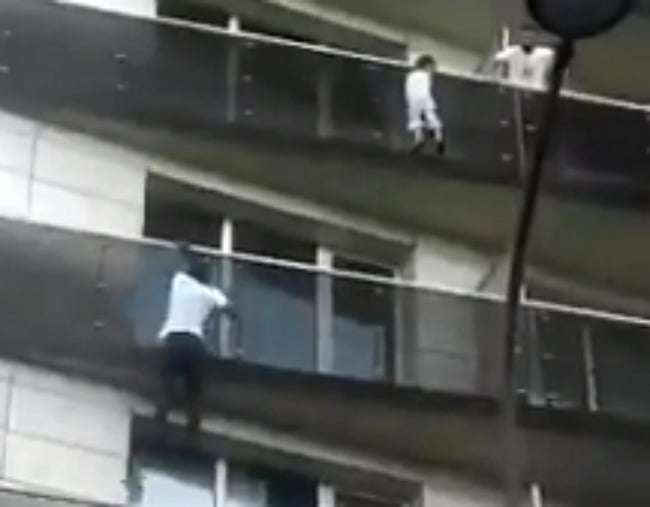 A man's incredible rescue of a child dangling from his four-storey Paris balcony was captured in a clip that has to be seen.
Mamoudou Gassama took less than a minute to jump and climb up the side of the building – risking his own life in the process – to reach the four-year-old boy before he fell.
The 22-year-old has since been praised as a hero for his daring rescue – and even dubbed "Spider-Man" by the city's mayor.
Watch the daring rescue, captured by Twitter user Adil Brown:
About 8pm on Saturday the boy was spotted dangling from his balcony. A neighbour tried to reach him from his own balcony, but because of the barrier in between, could not get a firm grasp on the little boy.
And that's when Mamoudou stepped up, telling French broadcaster BFMTV: "I did not think, I saved him."
"I saw all these people shouting, and cars sounding their horns," he told reporters on Sunday.
"I climbed up like that and, thank God, I saved the child."
The young man, who recently migrated to France from his home in the west African nation of Mali, said while he didn't think twice about saving the boy, the incident did leave him shaken.
"I felt afraid when I saved the child … [when] we went into the living room, I started to shake, I could hardly stand up, I had to sit down."
Paris mayor Anne Hidalgo said on Twitter that she had phoned Mamoudou to thank him for his "act of bravery", calling him "Spider-Man of the 18th" (the district where the incident occurred).
"He explained to me that he had arrived from Mali a few months ago dreaming of building his life here," she said.
"I told him that his heroic act is an example to all citizens and that the city of Paris will obviously be very keen to support him in his efforts to settle in France."