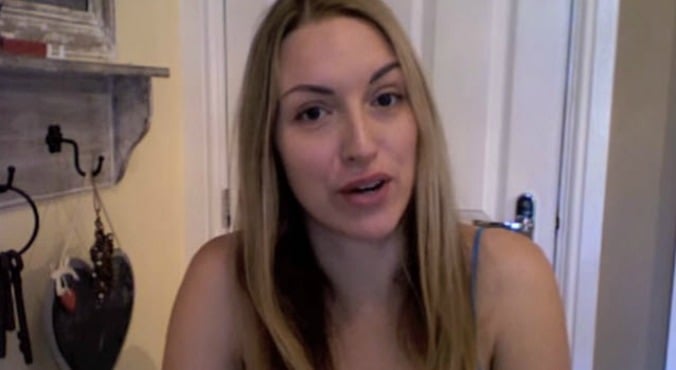 Image: YouTube.
Vloggers can be a great source of beauty inspiration, but they can also open our eyes to treatments we probably won't be trying anytime soon. Enter: the sperm facial.
Yes, London-based beauty vlogger Tracy Kiss has uploaded a video demonstrating how to do a daily semen facial, which she claims has worked wonders in treating her rosacea. (Post continues after video.)
"It feels so glossy to wipe it off, it's kind of like having an oil on the face or a wax where it just glides off beautifully," the 28-year-old ex-glamour model and erotic fiction writer explains in the video.
To do the facial, Kiss cleans her hands with a wipe to ensure they're clean. Then, because there's only a small amount, she targets her cheeks, dipping her finger into the pot to pick up the semen, then she applies it directly to her face massaging it into the area.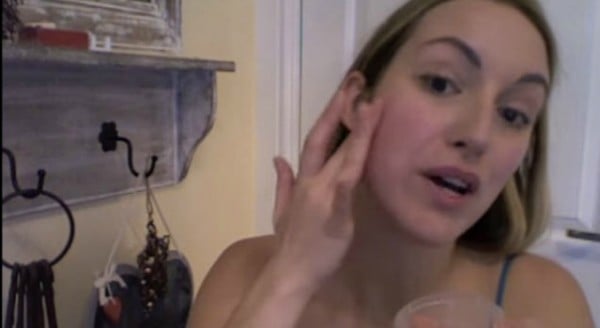 "It dries really quickly and you just feel this cool sensation, you can really feel it coming into your face. It doesn't necessarily get rid of the redness, it won't cure you, but it does reduce it. It makes the skin texture better, stops it from being dry and worn out, rejuvenates, revives, hydrates and leaves it so beautifully soft... it's just a mad moisturiser," she says.
After leaving it on for anywhere between five to 20 minutes, she then washes it off using warm water which makes it feel like "you're doing a face pack."
Kiss explains that she gets her material from a friend, who 'donates' it to her in little takeaway sauce containers, although she encourages using your partner or someone you know is in good sexual health as your source. Yes, sage advice.