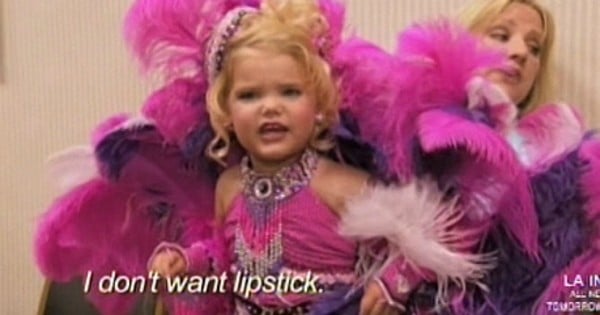 I lost. I lost big.
My daughter, G, is only two. Barely. She's two years and two months old, and she chose sneakers that are pink-and-purple tie-dyed, glittery, and rhinestoned — oh, and they LIGHT UP.
Yup, all of that's on one shoe. One very small shoe.
We were at our local thrift shop, which is a haven for all kinds of excellent, barely-worn (and not-so-excellent, very-worn) shoes. Children's feet grow at such alarming speeds already — why spend $50 for one pair?
I picked up some black Vans and a pair of tiny, über-hip, chocolate-brown desert boots. "Oh, hey, G, aren't these cute?"
But she wasn't paying any attention to me.
Her eyes had been almost-literally bedazzled by that damn pair of sneakers.
Watch: The times our kids made us cringe. Post continues below.
Really, Value Village, you put them on the lowest shelf? I thought. That's like putting the Pop Tarts and Oreos at toddler height.
"Mama, these. Mama. Mama. Help." She began to pull off her own shoes — green and black and perfectly basic, but also getting small (hence our search in the first place).
She was struggling, and I wasn't sure I wanted to help her get into that particular pair of sneakers.
I'd always told myself that I would buy her neutral(ish) clothes — feminine, tomboyish, androgynous — until she started wanting to pick out her own clothes. If she wanted Princesses and glitter, so be it. If she didn't, I'd be fine (great!) with that.