As the Bachie rules dictate, immediately after confessing their love for each other, the successful couple must then be separated, unable to see each other and essentially pretend they're not in a relationship for months until their finale screens on the television.
It's a covert (and decidedly un-romantic) operation with security levels that surely rival an MI5 operation.
But, the contestants do find some sneaky ways to see each other during that time – with Channel 10's approval, of course.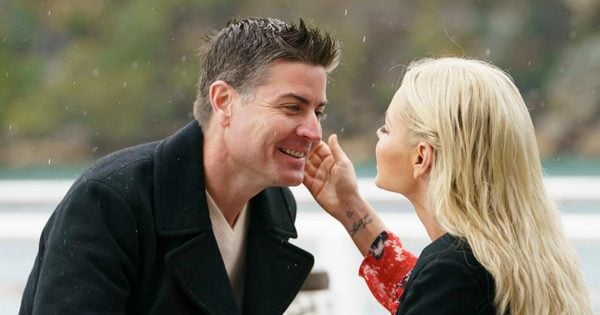 Sophie Monk and Stu Laundy said they'd been able to see each other just twice since the finale was filmed two months ago.
"We've only seen each other a couple of times, that's it. And that's hard for two adults, it feels like you're in high school," Monk told news.com.au
 "We were taken in separate cars to random butt-f*** places, to be honest. We'd hang out for two or three days but you can't leave the house, so it's a bit stir crazy."
Seeing each other comes with the serious risk of spoiling the entire season should someone see or photograph them together.
LISTEN: We need to talk about that finale. Post continues after audio.

It's the pay-off Matty J and Laura of last season's The Bachelor found particularly frustrating, with paparazzi waiting to catch them out on their four rendezvous between filming and screening.