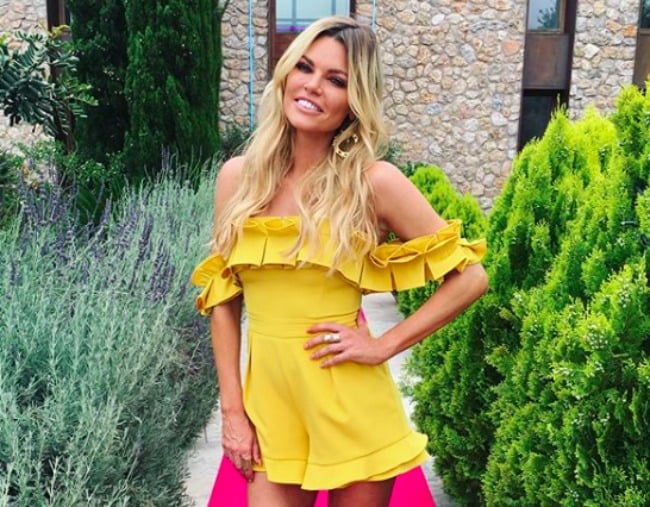 1. Sophie Monk tried to quash rumours she and MAFS' Ryan are dating. Except… she kinda failed.
So, the rumour is Sophie Monk and former Married At First Sight star Ryan Gallagher are dating, which is nice and quaint and great news.
Sophie Monk, however, went on Tuesday's The Kyle and Jackie O Show to try and quash said rumours.
Instead, she sort of half-confirmed, half-denied.
"You realise I've never met Ryan, like, in the flesh?" she told the program. "I've spoken to him on the phone through Jackie... [but] I've never met this guy."
While Monk said he "is really funny and sweet", she added she is "100 per cent single"and "want[s] to stay single for a while".
But the odd phone call with Ryan won't go astray, it would seem.
2. Chrissy Teigen likes to steam her vagina and hello, hi, we have some questions.

Chrissy Teigen is well-known for her candid approach to social media, but did you know her warts-and-all presence includes the fine art of vagina steaming?
Posting on Instagram on Monday, the former model and mum-of-two wrote:
"Face mask/heat pad/vagina steam no I don't know if any of this works but it can't hurt right? *vagina dissolves*."
Vagina steam.
Vagina. Steam.
We have some questions, including but not limited to, is she the new Goop? Does this work? Is it warm? What does it... do?
That is all.
3. Remember Hotdogs from Big Brother? He just made his return to reality TV and it's been 13 years too bloody long.
Excuse us, but the most iconic figure from Australian reality TV circa 2005 just made his triumphant come back.
His name is Hotdogs and you may remember him as a former contestant on Big Brother.
Hotdogs AKA Simon Deering returned to our TV screens last night as... himself. You see, Hotdogs is now a grown up with a real job and he's no longer named after my third favourite street food.
Simon appeared on House Rules in his professional capacity as a Perth property consultant for Purplebricks.
During his time on the show he gave contestants Chiara and David a valuation of their West Australian house, which was recently renovated on the show.
This is how Twitter reacted:
The best thing about this week's #HouseRules is knowing #HotDogs from #BBAU is the #PurpleBricks regional manager for WA and he's bound to return to our screens.

— Daniel Rose (@dgr_dgr) June 12, 2018
Prob already been said but that @PurplebricksAus agent on #HouseRules was #Hotdogs from #BigBrother if im not mistaken ???? @JohGriggs7

— Peter T (@PeterDT82) June 18, 2018
How reliable is a property evaluation from #Hotdogs ?? ???????? #HouseRules #BigBrother

— Jell Radford (@JRad86) June 18, 2018
4. Literally just our favourite Amal Clooney fashion moment of 2018.
Gee, Amal Clooney is doing alright with the fashion things at the moment.
Between the canary yellow structured dress she wore to Meghan Markle and Prince Harry's royal wedding to her Met Gala 2018 floor length bodice (the back of it, at least), it's hard to chose a favourite look.
Well, it was, until the human rights lawyer and mum-of-two wore this burgundy velvet number over the weekend to the WAAAUB Chapter Gala Dinner in London.
All we have to say is that it's stunning. And, that it was a floor-length, custom Alberta Ferretti gown.
If you need us, we'll be here staring at this photo.
5. James Van Der Beek cautioned "squeamish" fans not to look at photos of his new baby.

We all got to know James Van Der Beek as the angst-ridden teen lead in Dawson's Creek, but this week, he officially became a dad of five.
"Thrilled to announce we welcomed a brand new baby girl into the world Friday morning, just in time for #FathersDay," the 41-year-old actor posted on Instagram. Gwendolyn joins older siblings Olivia, 7, Joshua, 6, Annabel Leah, 4, and Emilia, 2.
From the photo we can see that Van Der Beek was very involved in the process, as he sits shirtless, nestling his newborn daughter in his arms... while she is potentially still attached to the placenta that sits at their feet in a stainless steel bowl. Van Der Beek cautioned his followers that they may find the image of the afterbirth confronting, because of the mess and the "placenta...in a mixing bowl."
Indeed.
You can find more more on James Van Der Beek's baby photo here.