We all do it. We all get to Christmas, forget that we were supposed to buy a present for Great Uncle Darren, and at the last minute, are forced to look around the house for something we can quickly wrap and chuck under the tree.
But it's nice to know that we're not alone…celebrities do it too.
While appearing on The Project, singer and TV personality Sophie Monk revealed that, come Christmas, she's guilty of the biggest present-giving sin: re-gifting.
"I'm sure [my family] are watching right now…but hell yeah!" she replied when asked if she re-gifts present at Christmas.
"I receive so much free stuff, it's like, 'Oh, I got this for you!' But yeah, definitely re-gifting," she laughed.
LISTEN: The Mamamia Out Loud team brainstorm easy gifts to give the men in our lives this Christmas. Post continues after audio. 
Sophie described herself as the biggest "tight ass" in her family, but also offered up an excuse for why her friends and family shouldn't be offended by receiving second-hand presents.
"That's their fault for giving you crap presents!" she laughed.
Sophie was on the show to promote a new app, Carousel, which she is selling her possessions through to raise money for charity.
On offer? A pair of brand new Yves Saint Laurent shoes that Sophie admits she has never even worn.
"I bought them on sale and they were the wrong size so I've never worn them," she said.
She's also selling this…this fluffy ball thing.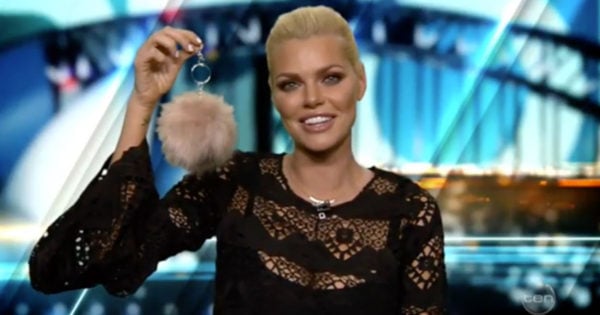 She says it's a decoration for a handbag and according to Sophie, "Who doesn't love a ball?"
Oh Sophie, never change.