How awkward are first kisses, eh?
There are… so many issues. How do you know what the other person's thinking? Which way do I tilt my head? What if the other person tilts the same way? And hands, where the bloody hell do I put my hands so they're not creepy and weird?
Thankfully, most of us will never have to have these intimate moments broadcast on national TV. The same can't be said for Sophie Monk, which is why we've decided to rate each of her smooches on The Bachelorette so far from horrific to least awkward.
Here are the results:
3. Ryan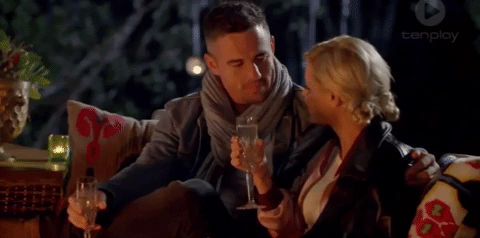 Maaaaate, this was real bad.
This folks is what happens when you try and go in for physical contact too soon. How soon is too soon, you ask? After your very first bloody question, that's how.
Lead up: .05/5
Could there be anything worse than telling arguably Australia's biggest bogan that your dream girl keeps it classy and doesn't swear? Have you even met Sophie Monk? Oh, but at least he saved it by saying ugg boots are so fine, but only if the woman looks hot while wearing them...
Execution: 1/5
No one asked for this kiss. Not us. Probably not even the producers. And especially not Sophie. The way she cringed before gallantly throwing him a scrap of a peck is evidence enough.
And what about how he swooped in out of nowhere like a magpie that spotted something shiny? Ryan, you COMPLETELY misread this entire situation and we're not sure you'll ever recover.
Hand placement: 2/5
At least they were both holding champagne glasses... if either one of their hands had been free, chances are this would've been even more awkward than it was.