Fans were glued to blogger Sophie Cachia's labour videos this weekend, and for good reason.
The unfiltered hours before birth are not often shared on social media. Considering how common it is, giving birth is still a great unknown for those who have to do it.
For new mums, long labours unravel like an unmapped marathon, despite so many people having done it before.
It's usually the result we get to see on our Facebook feeds – birth announcements, with carefully selected introductions and photos.

But on Saturday, Cachia — i.e. The Young Mummy — changed that by posting real-time videos of her 14-hour-long labour on Snapchat.
By the late evening, the 26-year-old had given birth to her second child, Betty.
The blogger's fans "refreshed Snapchat" all day Saturday as they watched Cachia labouring her second child. She and her husband Jaryd also have a two-year-old son, Bobby.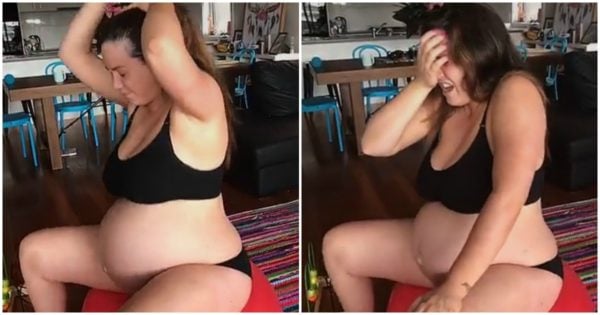 The Young Mummy posted updates from her lounge-room labour ball to the birthing suite.
The 24-year-old admitted the "slow process" of her second labour was different from her first child.
"This is such a different experience to last time when I got induced, and you go from 0-100 in seconds," she said. (Post continues after gallery).