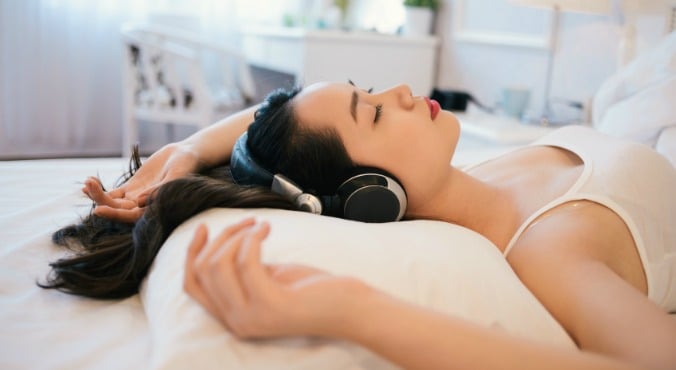 Image: iStock.
Let's be honest — mornings just aren't that great. Groggily dragging oneself from a toasty bed and enduring the clumsy zombie walk towards the coffee machine is nobody's idea of fun.
According to one scientist, perhaps all we need is a little Coldplay to help us along. Spotify has partnered with music psychologist, David M. Greenberg, to create a playlist that's "scientifically engineered" to help you rise and shine without the aid of Berocca. All 20 songs on the Wake Up playlist have three things in common:
1. They slowly build
Dr. Greenberg and the team and Spotify understand that nobody wants to wake up to the musical equivalent of a fog horn.
Apparently these are the 14 things successful people do when they wake up. (Post continues after video.)
2. They're positive.
They emanate good vibes and uplifting lyrics to get you feeling good about the fact the sun probably still hasn't risen.
3. They all have a strong beat.
More specifically, beats two and four of each measure are emphasised, and all the tunes all have a timing of 100-130 beats per minute. In non-musical terms: they're good to tap your feet to.
Here's the playlist all its promising glory:
Coldplay – Viva La Vida
St. Lucia – Elevate   
Macklemore & Ryan Lewis – Downtown       
Bill Withers – Lovely Day
Avicii – Wake Me Up
Pentatonix – Can't Sleep Love
Demi Lovato – Confident
Arcade Fire – Wake Up
Hailee Steinfeld – Love Myself
Sam Smith – Money On My Mind
Esperanza Spalding – I Can't Help It
John Newman – Come and Get It
Felix Jaehn – Ain't Nobody (Loves Me Better)
Mark Ronson – Feel Right
Clean Bandit – Rather Be
Katrina & The Waves – Walking on Sunshine
Imagine Dragons – On Top of the World
MisterWives – Reflections
Carly Rae Jepsen – Warm Blood
iLoveMemphis – Hit The Quan. (Post continues after this delicious and very rousing coffee gallery)
"Science shows that music affects us in all types of ways, including emotionally, physiologically, and in the brain," explains Greenberg.
"The right music – like Viva La Vida by Coldplay with its positive energy and strong momentum – can help you wake up, get energised and tackle the rest of your day."
I have to say, it's all pretty convincing… so much so I'm willing to overlook the travesty that is the definite lack of T.Swifty.
In case you want to perk yourself up right this minute, you can listen to the playlist here:
Do you have a favourite song to wake up to?