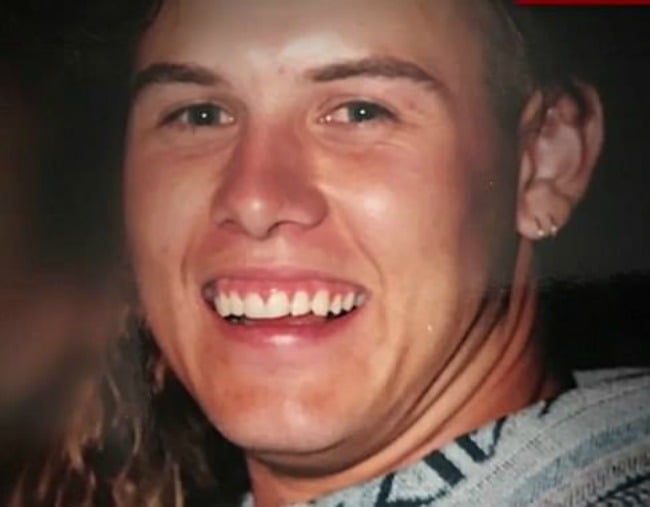 – With AAP
1. Elderly Sydney couple pleads for son to be deported from Australia after he stole their life savings.
A British-born Sydney couple who say their son broke into their home while they were on holiday and drained them of their savings has been offered a 'goodwill payment' after pleading for help on A Current Affair.
In 2013, after travelling home to the United Kingdom, Jill and Tony Lewis' son Russell broke into their home and stole their credit card information. He stole televisions, an air conditioner and drained all their bank accounts.
The couple was not told about the theft until they returned home, and were forced to sell their business and home. They are now pleading for the Australian Government to deport their son.
"Please deport my son, because I've had enough… I never want to see him again," Tony told A Current Affair.
Tony and Jill moved to Australia from England in 1985 when their son was aged 10.
"Minister, please deport my son because I've had enough of him. I never want to see him again." #9Todayhttps://t.co/ouIQVrZCTR

— The Today Show (@TheTodayShow) May 30, 2018
The couple, who expected to be retired by this point, now borrow money to pay rent and are caring for Russell's six-year-old child after he was sentenced to 3.5 years in prison for his crime.
Initially, Commonwealth Bank refused to cancel the couple's $47,000 debt racked by by Russell, despite the fact their son had been convicted. It is reported they believed the couple were in on the scam.
However, just days after the story aired on A Current Affair, Commonwealth Bank made a 'goodwill payment' to help the couple get on with their lives.
"We are sorry for the difficult situation Mr and Mrs Lewis have faced as victims of a crime. It is our intent to help Mr and Mrs Lewis by making a goodwill payment in relation to the fraudulent transactions," the bank said in a statement, Mail Online reports.
2. Pauline Hanson breaks down on television over divided One Nation.
One Nation leader @PaulineHansonOz has claimed Senator Brian Burston tried to defect to the Shooters Party.

MORE: https://t.co/TjnfdYInar #theboltreport pic.twitter.com/UTkl2Hm9kO

— Sky News Australia (@SkyNewsAust) May 31, 2018
Pauline Hanson's One Nation is two nations now.
The three-person Senate team is split over supporting the government's company tax cut plans, with Senator Brian Burston deciding to back them.
In a fiery interview on The Bolt Report on Sky News, on Thursday hosted by Ben Fordham, broke down while accusing her colleagues of "stab[bing] [her] in the back".
"This isn't the first time Brian's stabbed me in the back and that goes back a long time ago," Senator Hanson told Sky News.
"This hurts me. It means so much to me what I'm trying to do.
"But I'm, going to keep going and I'm going to get good people in that parliament besides me, because it means so much to me to help the people that need help that feels like no one's listening to them.
"They're sick of politicians because they don't do anything and I'm not finished."
Hanson, meanwhile, has been accused of making decisions without consulting her party, and leaving long-time supporter Senator Burston in the lurch.
Senator Hanson insisted the party was united, before walking out of a press conference while colleague Peter Georgiou was still talking.
"Is it hard to show you're united when your boss just walked away?" one journalist asked him.
"Actually I didn't realise she'd walked away so I'll be walking away now too, thank-you very much," Senator Georgiou replied.
Senator Burston has taken the One Nation branding off his social media accounts, and it's understood he told staff to advise him only, rather than the party team.
The government was told about a month ago of his solid support for corporate tax cuts, irrespective of any possible future change of heart by Senator Hanson.
The One Nation leader reneged on the handshake deal she struck with Finance Minister Mathias Cormann, so Senator Burston decided to go public.
He is understood not to favour quitting One Nation in the short term, but will be voting contrary to his party colleagues from time to time.
"He's said he's not doing a dummy spit, he said he's not walking away from One Nation," Senator Hanson told reporters.
But David Leyonhjelm, who had dinner with Senator Burston last week, said Senator Hanson – who recently declared herself the party president-for-life – was making all of the party's decisions often without consulting colleagues.
3. A 'mummified' body has been found decomposing inside a Sydney home.
Forensics, homicide and North Shore officers at the Greendale Ave home where a body police sources called "mummified" was found this week pic.twitter.com/7jfnSOhnmO

— Sally Rawsthorne (@sallyrawsthorne) May 31, 2018
Cleaners sent to clear out a property in Sydney's Lower North Shore have discovered a decomposing body inside the house.
The occupant of the home on Greendale Street in Greenwich died close to a year ago and cleaners were sent in this week, NSW Police say.
The grim discovery was made on Tuesday and police have described the remains as "mummified".
"The body has not been identified and the death is being treated as suspicious," NSW Police said in a statement on Thursday.
It's believed the body was there for a "considerable" amount of time and is so badly decomposed a post-mortem examination is required to determine the gender.
The Homicide Squad is assisting with the investigation and urged anyone with information to contact authorities.
The occupant, named by the ABC as Bruce Roberts, is understood to have been a hoarder.
Long-time neighbour Gayle Meagher recalled exchanging pleasantries with the man.
"He was a bit of a recluse," she told the ABC on Thursday.
"We would exchange Christmas cards and we'd always say hi … sometimes he'd respond and other times he wouldn't."
4. Courtney Love's former son-in-law alleges she conspired to kill him.
Frances Bean Cobain's ex husband Isaiah Silva is reportedly suing Courtney Love for trying to kill him https://t.co/TQMhJuxmXg pic.twitter.com/mC9YtjoBt0

— NME (@NME) May 30, 2018
Courtney Love's former son-in-law alleges she tried to have him killed in order to get Kurt Cobain's guitar back, according to legal documents.
Isaiah Silva, who was married to Francis Bean Cobain, the only child of Love and the Nirvana frontman, is suing a number of people including Love.
He claims they conspired to murder him in a bid to recover a famous guitar once belonging to Cobain.
In court documents lodged in Los Angeles, Silva alleges the group are guilty of burglary, robbery, sexual battery, kidnapping, attempted murder, criminal threats, false imprisonment, extortion, stalking, intentional infliction of emotional distress and trespass.
It comes after a US entertainment website earlier this month revealed that as part of his divorce settlement with Bean Cobain, musician Silva got to keep the 1959 Martin guitar that Cobain played during Nirvana's MTV Unplugged performance in 1993.
Cobain killed himself less than five months later.
Love is yet to file an answer to the complaint and has been contacted for comment.
The 329-document alleges that on the morning of June 3, 2016, Love's manager Sam Lutfi, actor Ross Butler and another man, Yan Yukhtman, "entered into a criminal conspiracy to commit trespass, burglary, home invasion robbery, assault, battery, kidnapping, and murder" to try and recover Cobain's guitar.
Silva alleges he was in the master bedroom of his home with a bandmate when he heard a disturbance downstairs before the property's alarm system was triggered.
Lutfi is said to have pounded on the locked bedroom door while Butler and Yukhtman repeatedly yelled, "police open up!" and "LAPD! (Los Angeles Police Department) Open the f***ing door!".
Silva then opened the door, it is claimed, and Lutfi "seized him violently" and dragged him from the bedroom before reacting with shock to the presence of Silva's bandmate, who was ordered to leave.
It is then alleged the three accused physically assaulted Silva.
5. West Australian government backs Victorian law banning anti-abortion campaigners from communicating with vulnerable women.
Abortion clinic safe zones backed by Australia's federal and state governments https://t.co/qpbIJid6jk

— Guardian Australia (@GuardianAus) May 31, 2018
The West Australian government is supporting a Victorian law banning protests outside abortion clinics, which is being challenged in the High Court.
Anti-abortion campaigner Kathleen Clubb brought the case to the nation's highest court after she became the first person to be charged under the law for handing a pamphlet to a couple entering an East Melbourne clinic.
Victoria introduced the Safe Access Zones Act in May last year, making it an offence to communicate about abortion to people entering or leaving a service in "a way that is reasonably likely to cause distress or anxiety".
The act also makes it illegal to film people without their consent or physically block access to a service.
A written submission on behalf of WA Attorney General John Quigley argued the 150 metres "safe access zone" did not impede a person's ability to protest.
"The law leaves unaffected the capacity of any person to communicate … in relation to abortion law and health policy," the submission said.
Safe access zones have been introduced in every state except WA, Queensland and New South Wales, where similar legislation is due to be debated in parliament next week.
WA Health Minister Roger Cook has previously said he is in favour of the ban, saying it prevented intimidation of people who had made the difficult decision to access a legal medical procedure.