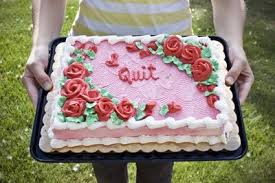 This is some serious robot mindreader shit right here. A company called Workday have made some spooky software that predicts when you're about to quit your job — and tells your boss. But we reckon, if you're going to quit, do your boss a solid and save them the money for this software. Just use any or all of the following behaviour to warn them you're on your way out.
And so we present to you: 9 Ways To Subtly Tell Your Boss You're About To Quit.
1. Make an office playlist that includes "Bye, Bye, Bye" by Nsync, "I hate my job" by Cam'ron, and "I Want To Break Free" by Queen.
Play it repeat, baby.
2. Stealthily put one piece of office stationary in your bag and/or pocket every day.
Consider this an investment in your future.