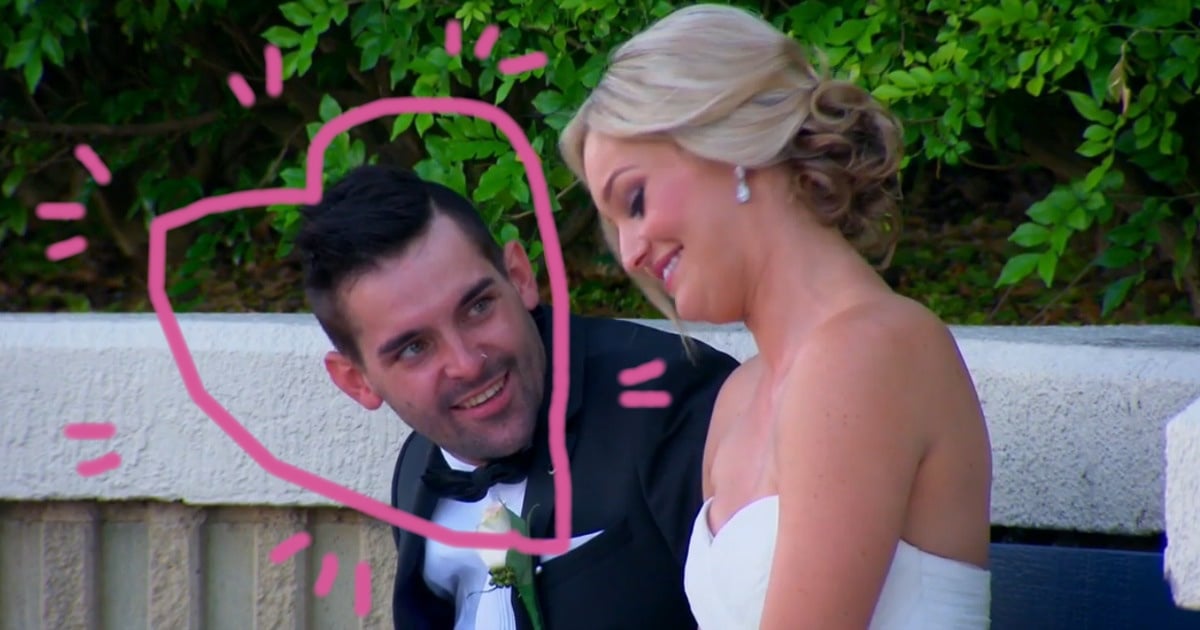 Well, you know what they say, ladies – never judge a book by it's cover.
But last night, when we first glimpsed the heavily tattooed groom Keller on Married At First Sight, well, um, that's exactly what we did.
Tattoos. Nose ring. Ex-navy. Bedroom like a 16-year-old. Tattoo on his penis.
Chorus: *Judges heavily*
But as the episode dragged on through its procedure of wedding dresses, tearful mothers, and nail-biting wedding vows; we all started to realise that Keller is actually bit of a sweetheart.
But we have no doubt that to his new bride, 28-year-old primary school teacher Nicole, Keller was a bit of a shock.
And if not for her, he absolutely was for her poor shell-shocked parents.
"There's a lot of them over there with tattoos," said Nicole's mum, frowning, as she checked out Keller's wedding guests.
"I say 'no' already," said Nicole's dad, with his arms crossed. "Have we gotta give our daughter to this man?"
Chorus: *Murmurs in agreement*
Meanwhile, back in the car, Nicole must have felt her ears burning.
"I really hope that my family and friends approve of my new husband," she said nervously. "That will be a massive weight off my shoulders."
Um.
But from the moment they first looked at each other, our skepticism around the prime-time-television-arranged-marriage faded.
Keller and Nicole actually seemed to have some kind of connection. Did Channel Nine's ~science~ actually nail it this time?
"I knew there was electricity and chemistry there right away," said Keller.
Chorus: *Begins slow clap*
As Keller and Nicole danced together and looked weirdly like an *actual couple*, Nicole's dad started to warm to young Keller, calling him a 'good guy'.
We agree, Nicole's dad: Keller IS a good guy.
Keller won us over on the Today Show this morning thanks to his choice of t-shirt. (Post continues after video)
This morning, Keller appeared on the Today Show, and his Harry Potter Gryffindor singlet earned him some major points before he even started talking.
He was shown footage of Nicole's Dad looking dubious, but eventually deciding he was a bit of an alright, Keller couldn't wipe the grin off his face.
"That makes me feel really good," he said, smiling. "To see what he thought of me beforehand, and then afterwards, getting to win him over, that's massive."
Chorus: "Awwww!"
So anyway, here's to hoping that Keller actually turns out to be A Nice Guy and proves all our judgey judging wrong.
#TeamKeller
Listen: This week on the Binge, Mamamia's TV podcast, we ask 'Is having a gay couple on MAFS a Good Thing?'