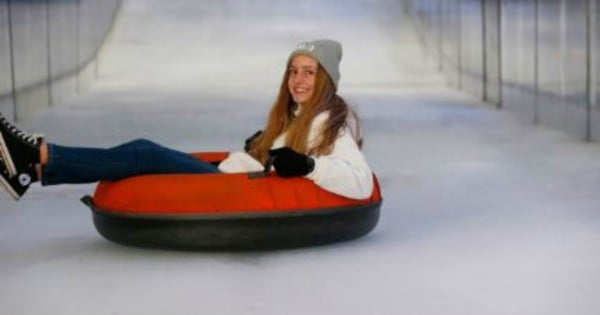 It's not all that surprising that this life lesson should have come from a 14-year-old. When you live with a teen day after day, you spend a lot less time listening to them that you should. Most of the time you're just bossing them around, telling home to clean up and get ready and did I mention, CLEAN UP! It can be easy to under appreciate their idealistic young minds.
And so it was that I was climbing the giant slide in the Hunter Valley with my 11-year-old when I turned to find my teen was also trailing behind.
We'd travelled here for an overnight getaway and were neck deep in activities at Snow Time in the Gardens in the Hunter Valley. Once a year, the 60 hectare gardens are transformed into a winter wonderland complete with giant slides,  a skating rink and tobogganing.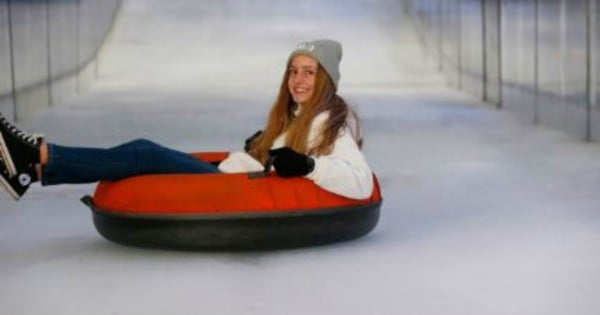 It's lots of fun, especially younger kids.  But you can never tell with a teen. At her age certain events and experiences are often written off as "lame" or dumb".
But here she was dragging her mat up the stairs with the rest of us.
"I've decided to make lots of moments in life Mum," she said. "I'm going to do stuff - participate  - and make moments."
Such wise words. Such a reminder to me to not forget to be in the moment in this one life instead of constantly being focused on to-do lists and jobs.
It's so easy when we are living hectic lives with two parents working and two kids in school to forget that THIS IS IT…this is the time to make moments, right now on the giant slide.
So that is what this weekend in the Hunter Valley became. A weekend of making moments, first on the giant slide and playing in the arcade and then in the skating rink holding hands with my teen, aware as I looked over at her grinning face that here might not be too more of these magic moments; that soon she would be out of school and doing her own thing.
I looked around and saw dozens of other families, smiles on their faces as they tried to stay upright on the ice, some pushing the skating penguins with their kids on top so they could enjoy the ice without the drama of learning how to skate. They were all making memories too, I hope.
We topped up the fun with some snowball fights in the  play zone and then some toboggan rides on a man made ice slide. When I say toboggan I mean on large tubes down a 40 metres slide. It was easy for one slide to turn into another, and then another.