A Reddit user has turned to the internet in a desperate time of need.
Her desperate time of need?
She slept with had very "memorable kinky sex" with her husband's boss a few times and now she has to see him at the annual Christmas party.
Oh.
And you thought your office Christmas party was bad.
Now before you, like me, have a LOT of thoughts and use a whole lot of unnecessary brain power trying to solve this Christmas conundrum, wait, there's more.
Turns out said kinky sex happened years ago before wedding vows were exchanged.
Phew.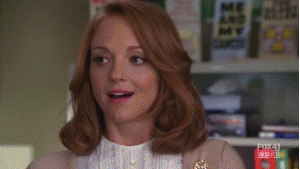 I wasn't freaking out. You were. Image via Giphy.
"Before I met my husband, I was single, and dated. A lot. I met this guy and we hooked up a few times. We had really good physical chemistry," she wrote under the username 'sleptwithhusbandsbos'.
"We had some REALLY kinky sex that is pretty memorable for me and I suspect might be to him."
Sounds like a match made in heaven.
Alas, it wasn't meant to be.
"He was 8-9 years younger than me, kind of immature, and I don't think he was looking for a relationship, which I was. Instead of saying I thought we were looking for different things and it wasn't working out, I ghosted him, figuring I'd never see him again."