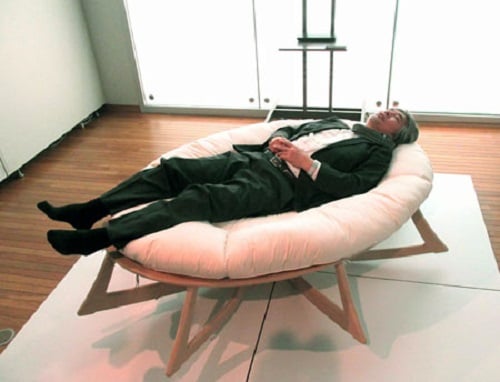 Forget smart mattresses and down pillows, the key to a good night's sleep is with the chimpanzees.
Japanese primatologist Koichiro Zamma has created a "humankind evolutionary bed". It replicates the beds of chimps in trees, and slightly rocks (almost imperceptibly, we're told), to make you feel as if you're at the top of a canopy.
I do trust the designer, because he doesn't just talk the talk. He's actually slept in a real-life chimp bed of leaves and twigs in the treetops of an African forest and the sleep, he said, was the best of his life.
"Chimpanzee beds are designed to envelop the body, which is why they are so comfortable," Zamma told The Guardian. "They're also built high up in the trees, so they rock with the movement of the branches. You could say they are the prototype of a baby's cradle."