Having a new baby that refuses to sleep is one of those unimaginable nightmares that you wouldn't wish upon your worst enemies.
That is unless you're one of the poor souls who has one of those babies, and the nightmare is your reality.
For mum Emma Gibbs it was just that, with her son Joel refusing to sleep for more than an hour at a time.
Appearing on The Project, Gibbs told the panel that "things got really bad".
"It was to a point where Joel wasn't sleeping for more than an hour day and night. Every night it was waking up on the hour, pretty much every hour, sometimes 40 minutes."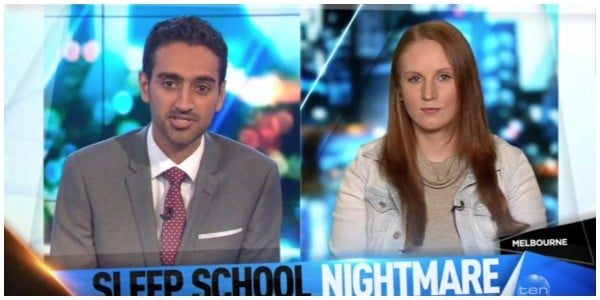 Mum Emma Gibbs took to The Project to share her experiences with sleep schools for babies. Source: Channel 10.
And if you're reading this and thinking that sounds utterly excruciating, Gibbs confirms that it was.
"It got to about five months where we were getting really desperate for help. I remember it was my birthday last year and it had been another terrible night and I just sat on his bedroom floor and cried."
Finally at their breaking point, Gibbs and her partner took themselves to sleep school, an experience she also described as "very tough."