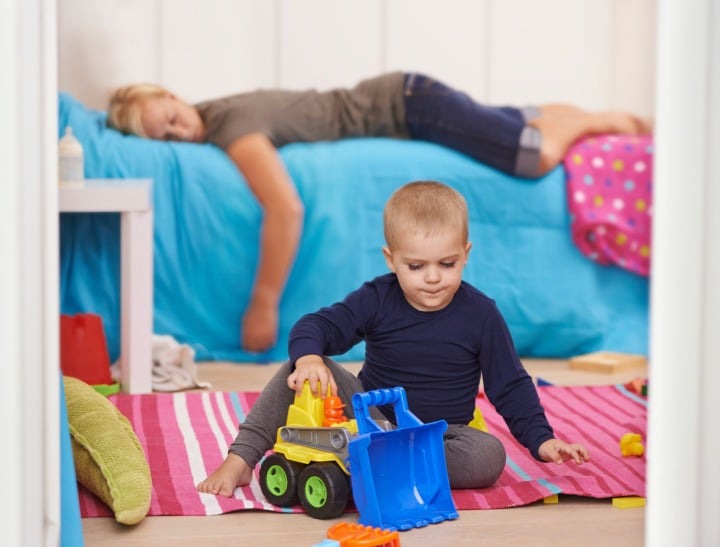 Ok look. I get it. It's probably not the badge you aspire to pin on your vomit-smeared top, but dammit, you've earnt it mumma. Wear it with sleep-deprived pride and remember – there are millions of mums around the world wearing it with you. You have an entire squad of parents feeling your pain – and while this does not magically create more sleep for you, it does mean that you are not alone.
1. Most mornings begin with a lovely lie-in, and a soft beam of sunlight dancing through your curtains, gently caressing your face.
Jokes. Most mornings begin before the sun even rises. You stagger out of bed and make a beeline for the kettle. Your eyes have barely opened, yet three tablespoons of instant coffee have made it straight into your favourite cat mug. When you realise you've run out of milk you don't cry, you sob. Loudly. This is not pretty crying – this is loud, ugly-face crying. As you sob, you drink your coffee sans milk. And you force yourself to enjoy it dammit. Ok. You got me. I lied. Most mornings begin with a nappy change, squirming baby, a couple of near-death experiences involving said baby and the change table, and heaps of yelling. Then the coffee and crying.

2. You drink instant coffee.
Shitloads of instant coffee.
3. You try to unlock your car by swiping your iPhone unlocked.
And then wonder why the door won't open. Stupid car.
4. When you finally figure it out, you swing the stupid car door open to be greeted with this lovely sight: