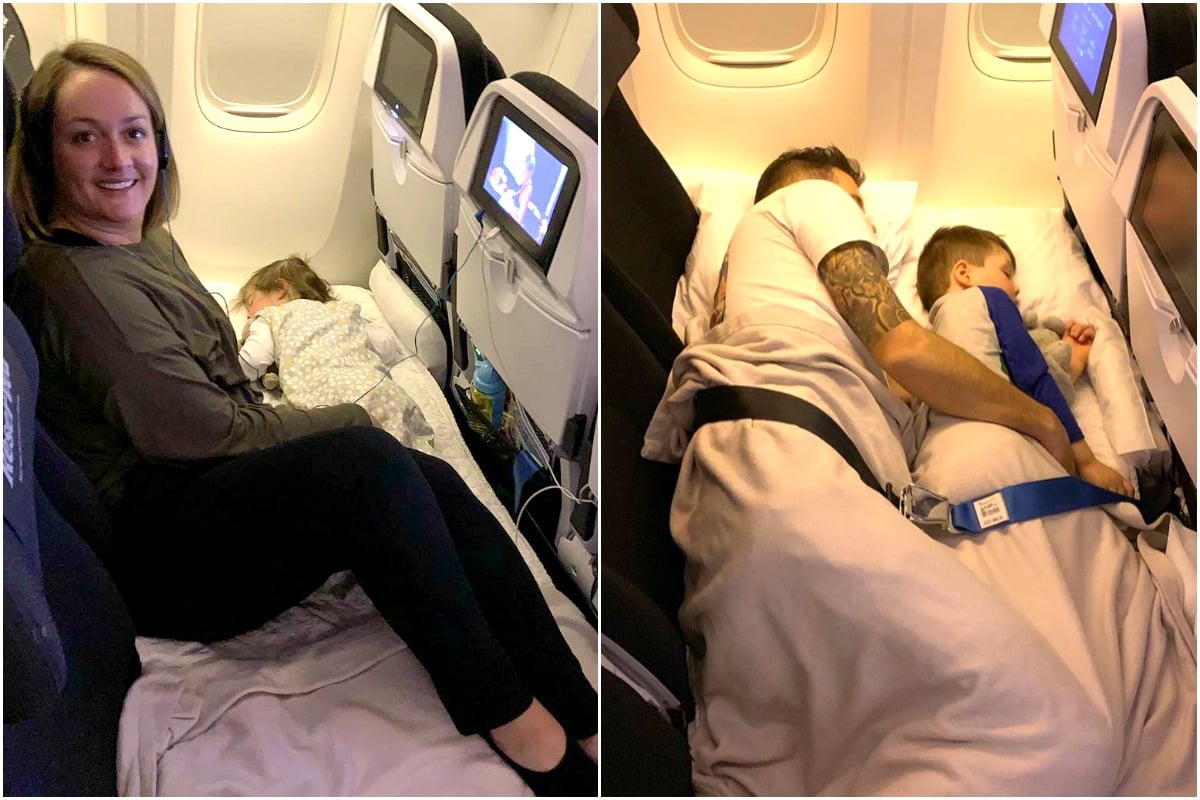 Long haul economy flights and young children generally don't mix, but Air New Zealand has come up with a nifty solution.
In a world-first, the Skycouch uses a row of leg rests which can be lifted to create a flat surface with your seat, acting as a bed or play area for young children.
Sharing her experience on The Real Mama Facebook page, Melbourne blogger Adele Barbaro said the Skycouch was a game changer when she travelled to Los Angeles with her husband and two young kids. Her post has since gone viral, receiving over 23,000 reactions, 29,000 comments and 1,400 shares.
"If there [are] two of you travelling, you can purchase a third seat at half price and you will get the entire row to yourself," she wrote.
"The leg rests all rise to meet the chair in front and it creates a completely flat, large play or sleep area. Paul and Harvey had a bed and so did Chloe and I.
"It's the next best thing to business (but way cheaper) and perfect for long haul flights with young families. And we all slept.
Welcome to Mamamia's flight school… we share the tips and tricks on how you can get through your flight as seamlessly as possible. Post continues below.
Speaking to Mamamia, Adele said her experience was "easy and so comfortable". Although she's travelled to Singapore and Bali with her four-year-old son, Harvey, and two-year-old daughter, Chloe, she generally opts for day flights to reduce disruption to their sleep cycles.
"Air New Zealand's Skycouch changes everything," she said.
"My little ones slept on the long leg of the flight and we arrived fresh, having all rested. It really makes a difference with jet lag."