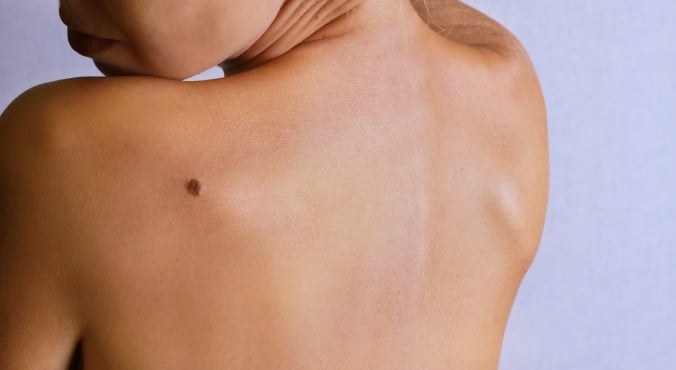 Image: iStock
H. Peter Soyer, The University of Queensland and Richard Sturm, The University of Queensland
The sooner cancer is diagnosed, the better the chance it can be treated. This is why, when it comes to melanoma, doctors advise people to regularly check their bodies and look out for new moles or existing ones that have changed shape.
We have long known people who have many moles – as well as those with atypical moles – have a predisposition to melanoma.
But a paper published recently in the respected journal JAMA Dermatology has challenged that notion. The study's authors surveyed more than 500 melanoma patients and found most of those with melanoma had few moles and no atypical moles.
This was surprising and led to headlines such as: "Moles are NOT the only sign of deadly skin cancer: Most melanoma patients 'have fewer than 20 – and none that look dangerous'."
But people with a lot of moles and those with atypical moles shouldn't cancel their skin check appointments. What we have always known still stands.
Watch: How to recognise the symptoms of Ovarian Cancer. (Post continues after video.)
Experts consider those with more than 15 moles to be at higher risk of melanoma than those with under 15. But the JAMA study showed most melanoma patients had 0-20 moles, without specifying how many had over 15 and how many under. This is only one consideration to take away.
Let's further unpack the study to see what it's really saying.
How was the study conducted?
Researchers surveyed 566 patients with melanoma in the United States. They aimed to examine the number of total and atypical moles in patients newly diagnosed with melanoma.
They also wanted to explore whether there was a relationship between these measures and tumour thickness. Researchers controlled for a number of variables such as age, sex and melanoma subtype. There were six groupings of subtypes, including superficial spreading melanoma (SMM), which is the most common form.
Patients were examined within three months of diagnosis by two specialists, who classified them into groups based on their total number of moles, number of atypical moles and the thickness of their moles.
There were three groups for total mole count: 0 to 20 moles, 20 to 50, and greater than 50.
Atypical moles were also grouped into three: 0, one to five, or greater than five. And mole thickness, which is the most relevant prognostic marker for melanoma, was categorised into two groups: moles of 2.00 mm or less and moles 2.01 mm or greater.
What were the results?
The study's overall and main conclusion was that most melanoma patients had fewer than 20 moles and no atypical moles.
Another finding was that patients under the age of 60 with thick melanomas were more likely to have fewer total moles, but more atypical moles.