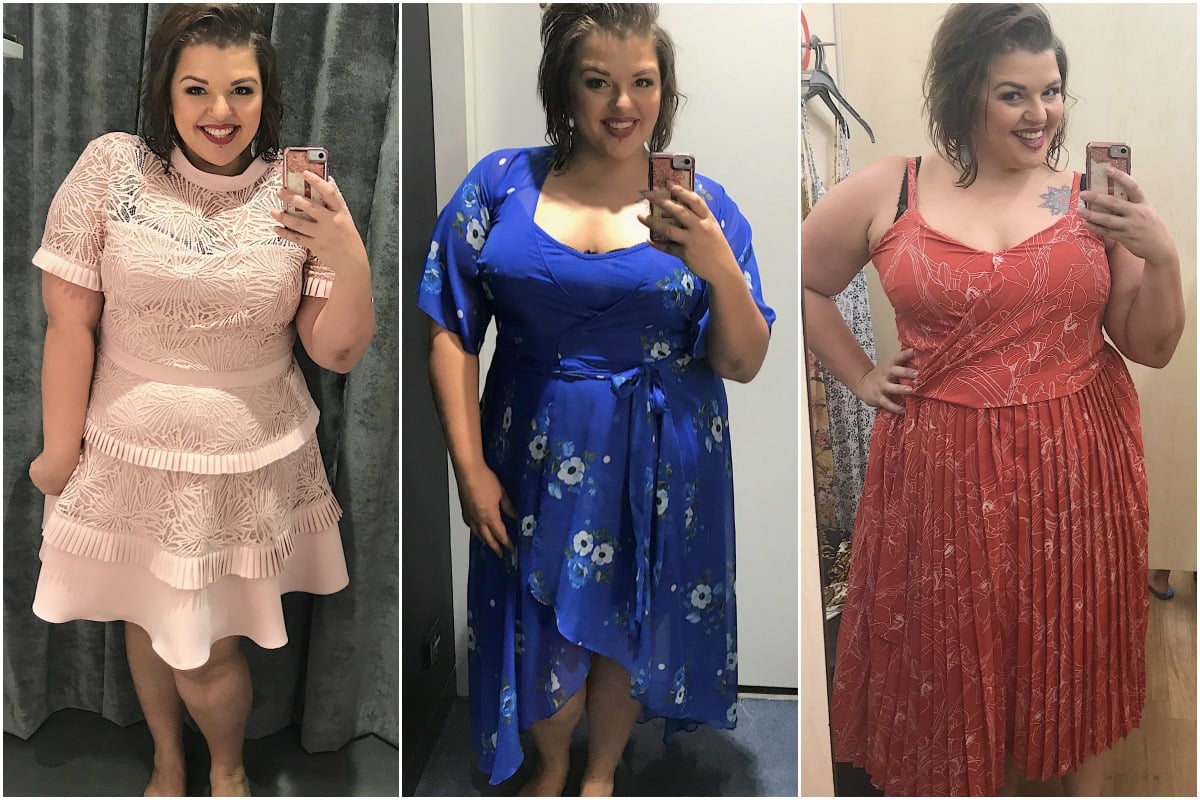 I'm just your average size 22-24 woman. I love block colours and glitter and, if I'm honest, this time of year makes me a little anxious.
As an extroverted introvert I find the parties overwhelming – all of the hugs are a little unnecessary, but more than that – if I don't have at least two weeks notice, it's virtually impossible for me to find something to wear.
I am the queen of online shopping. I have my go to brands, I know the fit of their clothes, my size, the delivery time and with the help of AfterPay I usually have my wardrobe sorted well in advance but December has me shook.
Mamamia reviews: The latex bodysuit. Post continues after video.
Last minute invites, changes in weather and life in general have me scrambling outside of my usual online haunts to the IRL shopping experience. I feel a little vulnerable and out of my comfort zone.
Where do people go for last minute buys that are funky for us curvy babes?
I had no idea… but I was going to find out. Last weekend I hit up my local shopping centre to see if I could find the perfect summer dress for women above a size 22.
Hopefully my experiences will help you as you search for the perfect dress to fit your plus size frame.
Note: Sizes vary from store to store so I tried to find dresses that fit my body rather than sticking to one size. The number on the tag is just that, a number. Don't hold onto it.
Also, I've rated the cost of these dresses using dollar signs. So ranging from $ for cheap, to $$$ for exxy.
Cotton On.
I think I speak for every plus size babe in Australia when I say 'Cotton On put your plus size range in store. Please. I want to shop!'
Cotton On has some beautiful patterns and their plus size range is actually great, I just wish that I was able to get my hands on it in store. Anyone else hate buying things online the first time? We need to try things on.
I went into Cotton On knowing that the chances of me finding anything off the rack was going to be slim to none but I went in determined and came out with this little black find.