1. Someone was trying to sell naked pictures of Sia, so she posted one to Twitter. Yes, really.
Badass, feminist, and everyone's favourite faceless enigma, when life hands Sia lemons, she throws them back – and rightly so.
Someone is apparently trying to sell naked photos of me to my fans. Save your money, here it is for free. Everyday is Christmas! pic.twitter.com/aeQlnTwLuy

— sia (@Sia) November 7, 2017
When the singer discovered a mystery member of the paparazzi had been approaching her fans with nude photos, she used one Tweet to extinguish any possibility of a scandal.
While Sia's normally known for her media-shy ways, she managed to bring down a super creep (side note: why isn't this illegal???), while also promoting her upcoming Christmas album.
Now that's what we call multitasking.
2. Why Meghan Markle is moving to London.
Alert! Alert! Meghan Markle is moving to London!
The ex-Suits actress, humanitarian, and girlfriend of Prince Harry, is planning on pursuing her philanthropy goals in the UK.
A close source told Vanity Fair "it was always her intention to focus on her humanitarian work, but I think her relationship with Harry has accelerated things moving in that direction".
Markle has always been active with her humanitarian work.
Her impressive resume boasts being a global ambassador for World Vision, women's advocacy work for the UN – which included addressing the assembly at the UN Women's Conference in 2015, as well as travelling to Rwanda and India for various projects.
While we can't wait to see all the amazing things Markle will undoubtedly go on to do, maybe this move will also mean we might get some more cutesy couple shots of her and Harry. That wouldn't too selfish of us… would it?
For more pop culture, listen to Mamamia's TV podcast, The Binge. Post continues after audio. 

3. Princess Diana's niece is the spitting image of her.
Lady Kitty Spencer is all grown up and she's looking more and more like her late aunt, Princess Diana of Wales.
Lady Kitty, the eldest daughter of Earl Spencer (Princess Diana's brother) and former model Victoria Lockwood was just six years old when Princess Diana of Wales died in a car crash in 1997.
Now at 26, Lady Kitty is certainly cementing her newfound social status after she was named one of England's most eligible women in Tatler magazine.
Cousin to Prince William and Prince Harry, Lady Kitty followed in her mother's footsteps when she walked the runway for Dolce and Gabbana in Milan Fashion week earlier this year in September.
4. Miley Cyrus and Liam Hemsworth may have been married for six months and um, WHAT!?
New reports are suggesting that lovebirds Miley Cyrus and Liam Hemsworth may have already married. SIX MONTHS AGO!
NW reports that 27-year-old Liam and 24-year-old Miley married in an intimate cermony at their house in Malibu in April this year, with a source saying "only a handful of people" attended or even knew about the private nuptials.
An anonymous source claims the couple doesn't intend to make their marriage "public knowledge anytime soon."
Look's like it's going to be a long, long time before we get some cute wedding pics out of these two.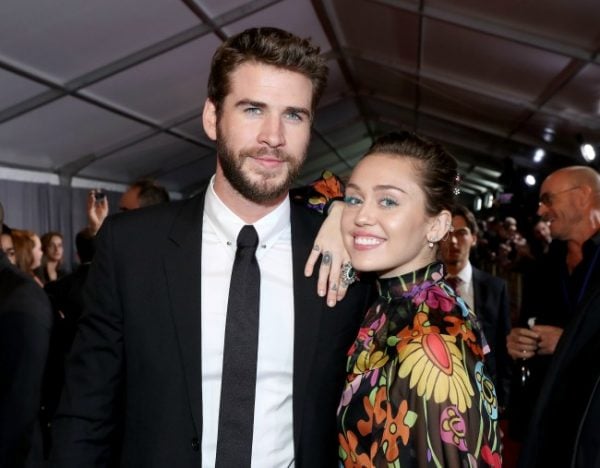 5. Kate Upton's first wedding portrait is here and oh my.
It's been a busy week for couple Kate Upton and Justin Verlander. Firstly, the Houston Astros won their first World Cup (baseball) last Thursday and then the couple flew to Tuscany and got hitched on the weekend... yep.
Naturally model Upton looked radiant in a long-sleeve, lace, Valentino gown at Tuscany's beautiful Rosewood Castiglion del Bosco 8000 year-old estate.
Definitely one to add to the Pinterest board.