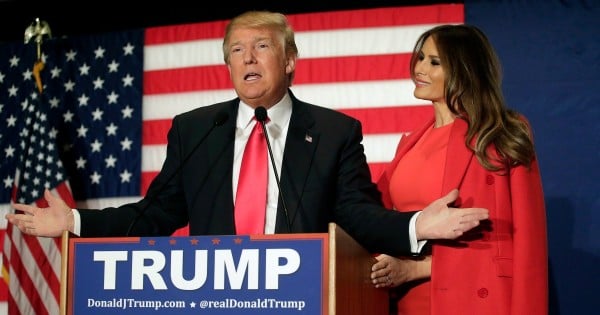 There are plenty of reasons for the world to be alarmed about Donald Trump.
He wants to build a wall between the USA and Mexico. He wants to stop Muslims from immigrating to America. He doesn't want to be interviewed by women who disagree with him. And he thinks global warming is a desirable solution to those long, cold New York winters.
BUT — when it comes to marital harmony, maybe we need to start listening to the man they call "The Hair". Perhaps, just perhaps, the thrice-married tycoon has uncovered the secret to a happy relationship — and it's all about the toilet.
An interview with the presidential hopeful from just before his 2005 marriage to Melania has surfaced, where he and Howard Stern spoke about some really important topics — like how these rich and powerful men stay attracted to their young and beautiful partners.
Watch Melania talk to Barbara Walters about her marriage to The Donald. Post continues below. 
And the key is — no bodily functions. No farting. No going to the toilet. Preferably not even referencing that you might be going to the toilet.
In the interview, Trump is eager to talk to Stern about a comment the DJ made about his partner, Beth.
"You said you've never heard her fart," says Trump.
And Stern answers, in his characteristically mature way. "Not only is that true, she doesn't make doody."
We can only assume, people, that here this grown man is referring to defecating.
"I can say the exact same thing about Melania," Trumps says, happily. "I've never seen it, it's amazing. I'd never experienced that… I never thought it applied to anyone else, but it applies to Melania."