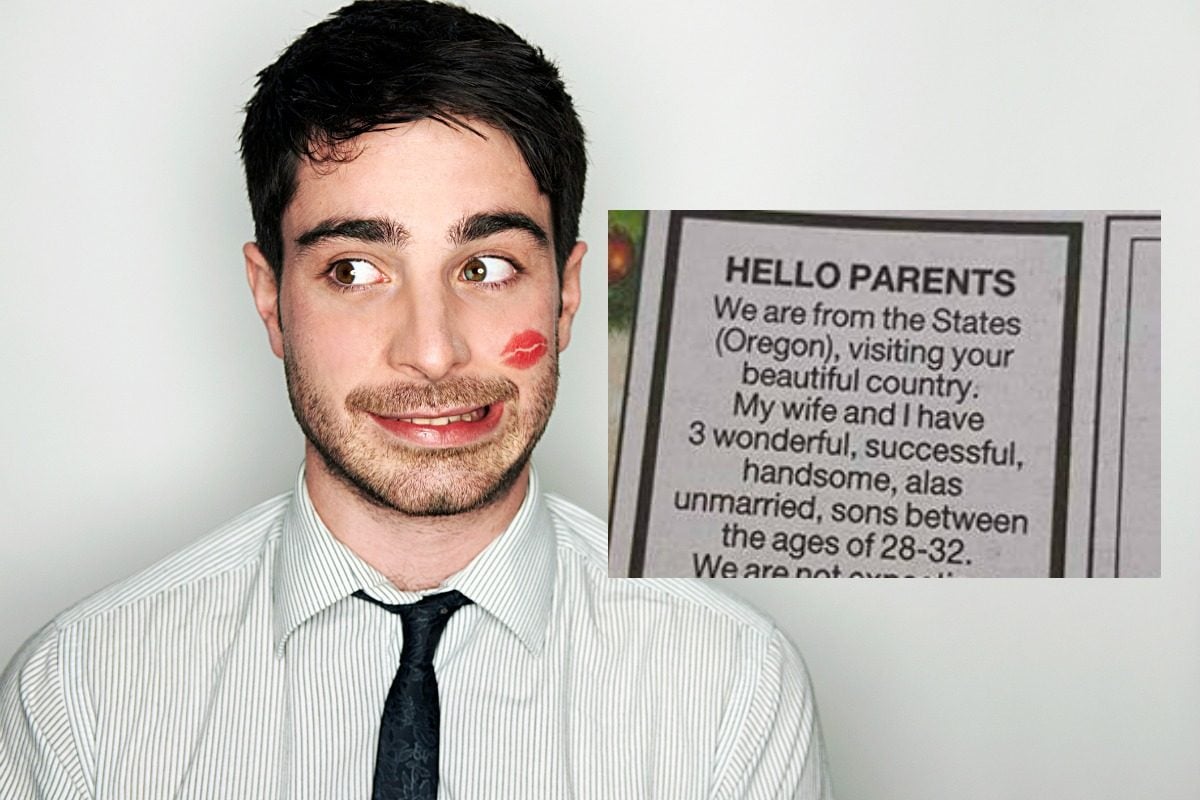 Oh… my.
This might be the level of cringe that actually does it for us.
We might have actually… already died from second-hand embarrassment.
A couple from the US have posted a classifieds ad in the NZ Herald trying to sell off their three sons to "nice NZ daughters" while on a family holiday over Christmas.
The ad, which has gone viral, does not specify how many goats they're willing to take for the sale of said sons, but it reads as follows:
"Hello Parents. We are from the States (Oregon), visiting your beautiful country. My wife and I have three wonderful, successful, handsome, alas unmarried, sons between the ages of 28-32," the ad, posted by a man named Neil read.
"We are not expecting, just hoping, to introduce our sons to nice NZ daughters. At the very least we'll embarrass our sons and the truth is, we do find some enjoyment in that."
While our first reaction if we were these "successful, handsome" sons would be to disown our parents and disappear off the face of the earth… it's looking like it might actually work.
Speaking to the Herald, Neil said all he wants for his "clueless" sons is to meet people while travelling.
"We like to travel and I have gone with my kids to Europe, Australia and Japan, but we have never really interacted with anybody and in my mind I was just interested in them getting to know people, meeting people their age, and maybe develop some lasting, permanent relationships," he said.
And with more than 200 responses to the ad already, he might actually succeed.
"I'm somewhat surprised that I have got quite a lot of responses," Neil said.
"It is hard to tell how many are genuine. A few are maybe just scammers but for the most part people are really amazingly nice in your country."
Neil went on to disclose details about his sons' relationship statuses, adding that one hasn't been in a "serious relationship for a while".
Thanks, dad.
The Oregon family will be in NZ between December 26 and January 7, and left an email address for anyone who wants to meet the boys, who apparently had no idea their dad posted the ad (though we suspect they do now).
We wonder if they're heading to Australia at all…