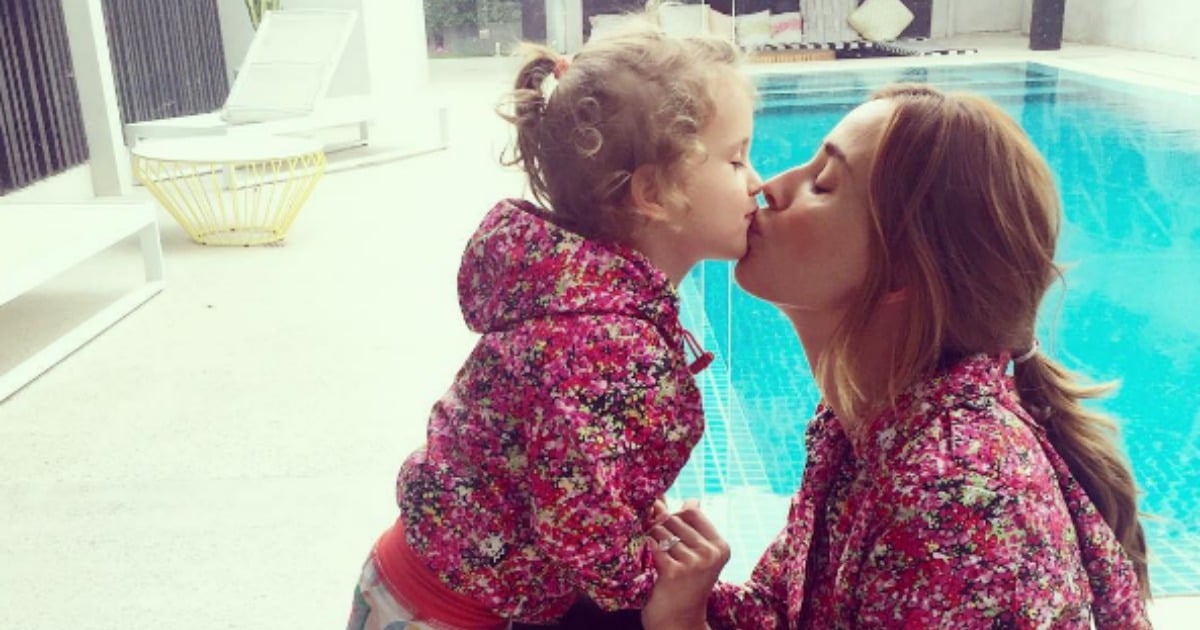 When Bec Judd revealed the gender of her identical twin boys in an Instagram post earlier this week, she was full of joy – but there was a note of regret in her announcement.
"Wish we called Billie a proper girl's name now," she joked, referring to name of her adorable two-year-old daughter.
With two more boys on the way, it makes sense that she might joke about rethinking the masculine name choice for little Billie.
(Although, we happen to think 'Billie' is a glorious name and we're pretty sure Bec does too.)
But, as it turns out, baby name regret is a very real thing.
Mothers from all over the world have come together on a NameBerry forum to discuss regret over the names they gave their children.
One woman gave her son the unofficial name "Sam", realised it didn't sound right, and officially named him "Beau". Now, she writes:
"Beau does not feel right either! People have already mispronounced it and look at us weird when we tell them that is his name. This really bothers me for some reason. I cannot bring myself to call him that and when other people say it I cringe inside and just keep feeling it's all wrong. I do not love the middle name either so I don't think that's an option for calling him that."
"I think name regret is normal," writes another mother in response. "I regretted both of my children's names after birth. I changed my daughter's name from Millie to Sophia. I wish I didn't."
For some women, the problem is a name choice their husband made.
"I had twin baby girls in January," writes a mother, "and I'm not happy with one of their names. I let my husband choose his favourite for one (Amelia), and I chose my favourite for the other (Ruby). His choice is not working for me and I obsess about it. I really want to change it."
She admits that when she's alone, she calls her daughter Amelia "Violet" – her name of choice.
These awful baby names might necessitate a change of name…
Twin girls appear to be a point of difficulty for naming, with other mothers jumping in to agree.
"I had twin girls, too!" writes BabyBliss.
"My husband and I really agreed on one name, Emily Grace, (we named her after a very dear friend) but we had a really hard time with the other name. I wanted to name the second baby Olivia, but we both were afraid it was too popular (though I have always LOVED it). In the end, we named her HannahMay, a name we both really liked, but did not love (middle name May after my grandmother). When I brought her home from the hospital, I immediately had the urge to call her Liv…she did not seem like a Hannah at all! I was embarrassed to tell people! That's why it took me almost 3 months to get the courage to change it! But I finally had her birth certificate changed to OliviaMay and I couldn't be happier with my little "Livi". Everyone is used to it now that she is 6 months old….though it did take her big sister and brother a little while to catch on!"
For some mothers, the regret comes much later on, as with the woman who insisted people start calling her daughter "Caroline" instead of "Carolyn" when she was five years old.
While some mothers insist they'd never change their child's name, it seems to be a growing trend among new mothers who can't find that "perfect" name.
But is a name ever perfect? Is it appropriate for mothers to keep changing their children's names?
You tell us.
Would you change, or have you ever changed, your child's name?