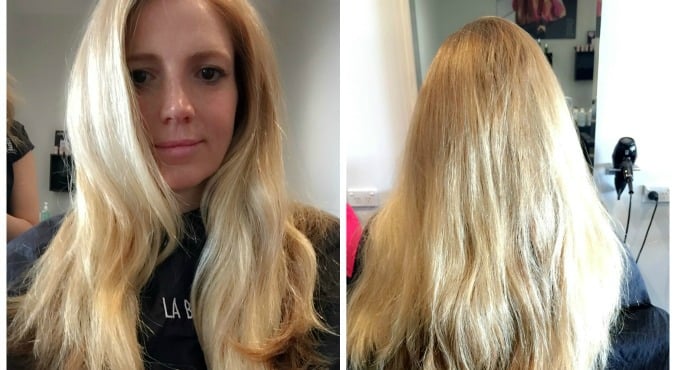 Image: supplied
If you've got long hair but have recently been tempted to opt for the chop (hello, have you seen all these lob pics!?), then this might be the haircut that finally persuades you.
Capucine Yeomans is on maternity leave, but in her normal life, she's a magazine sub-editor. Having just given birth to her third baby, her long blonde hair had gone out-of-control, crazily thick. With no time to battle with long, thick hair AND three children under five AND Sydney's humid summer, she decided it was time for the chop.
RELATED: 22 problems only girls with thick hair will understand
Taking in some pictures of short-haired celebrities like Julianne Hough for inspiration, Jackie from Lush Hair & Body in North Ryde was ready with the scissors to transform Capucine's hair from long and lifeless to short and stylish… [post continues after gallery]
Cap's hair transformation
 Capucine
What made you decide to make the change?
"Five weeks ago I had my third baby. As anyone who's been through pregnancy knows, your hair gets thicker – and in my case, it got totally out of control! My hair is thick at the best of times, and during this pregnancy it just went crazy. With three kids under five and Sydney's infamous humid summer to contend with, the last thing I had the time (or inclination) for was spending hours caring for my long, thick (so long, so thick!) mane. Time for some drastic measures!"
RELATED: The Chop: The one where Paula Joye gets the Sienna Miller bob.
What sorts of things were you looking at to get inspiration for your hair transformation?
"I typed 'short hairstyles for thick hair' into Google Images and went from there."
Who is your hair-muse?
"Julianne Hough has stunning hair, always."
How did you describe what you wanted to the hairdresser?
"I just showed her the picture and said: "This." I think she nailed it."
Jackie - the hairdresser
How long did this transformation take?
"It took approximately 3 hours from initial consultation to the final result."
What is it about this new style that's exciting for you?
"Firstly what made this new style so exciting was that is was such a huge change! It's not everyday as a stylist we get to let our creative side out. I also absolutely love creating concave shapes but giving them a 'fun' and 'edgy' feel to them."
RELATED: The Chop: "I cut my hair for the first time in 7 years."
What sort of image did you have in mind while you were doing Cap's hair?
"In our initial consultation we had a picture of Julianne Hough's short hairstyle so we took this as our inspiration. Cap has extremely thick hair so we had to adjust a few things to make this style work! I wanted a bold shape but wanted it to look soft, casual and beachy feel to it."
What did the transformation involve?
"The transformation involved a full head of highlights, a toner to achieve a clean blonde result and a silk protein treatment to strengthen the hair and give it a beautiful shine."
RELATED: The Chop: 12 inches of hair, $1500 for charity.
How many inches of hair did you cut off?
"At least six inches of hair were chopped off!"
Did you do anything else special we need to know about?
"After smoothing out the style, I then used a GHD to create waves and loose curls to finish of this look and give it the soft finish we both wanted."
 RELATED: Mia Freedman: "I feel Mumsy. CUT MY HAIR AND MAKE ME COOLER."