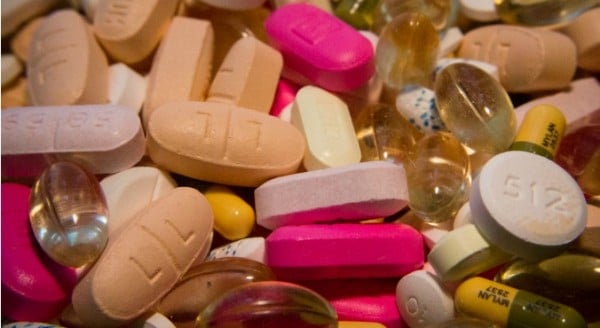 "You shouldn't need to pop many pills" (Image via iStock).
When I go out for dinner or meet new people, inevitably they find out what I do or they recognise me and we fall into a conversation about diet and lifestyle. Many of the questions I get asked are the same and it occurred to me that many of you probably want to know the answers too.
So here are five of the questions I'm most frequently asked about.
1. What's your favourite quick and easy, healthy dinner?
This changes based on what I have in the fridge! But I do try to incorporate as many vegetables as I can into whatever meal I'm making. If you follow me on Instagram, you would have seen me post a picture of a delicious soup I made the other day from all the leftover veggies I had in the fridge.
I served it up for an easy week night dinner with dark, crusty bread and a chunk of mature cheddar cheese. I also love a stirfry filled with lots of veggies and a protein-rich food such as chicken, meat or tofu, served with brown rice. It's really easy, nutritious and healthy.
Other nights I might just have a simple fillet steak with a big interesting salad, always dressed with a flavour packed dresssing based on extra virgin olive oil, and a smart carb of some sort like quinoa, baked sweet potato or corn cobs.
Plus, I can't go past a frittata – they are so versatile and you can fill them with anything you've got in the fridge – tomato, pumpkin, eggplant. Serve it hot or cold with a big salad (I eat a lot of salad!).
2. How bad is alcohol for me… really?
Ok, here's where the rubber meets the road. If truth be told, even though alcohol (particularly red wine) has been shown to have some health benefits in relation to heart health, in general alcohol does more harm than good. If you don't drink, definitely don't start!
Regular drinking can damage your liver, raise your blood pressure, raise blood triglyceride levels and increase your risk of certain cancers. Our Australian recommendations are:
"For healthy men and women, drinking no more than two standard drinks on any day reduces your risk of harm from alcohol-related disease or injury over a lifetime. Drinking no more than four standard drinks on a single occasion reduces the risk of alcohol-related injury arising from that occasion."
If you do like to have a drink I suggest aiming for at least two or three alcohol free days (AFDs) each week. On the other nights try to stick to the recommended one or two glasses. You can slow yourself down by alternating an alcoholic drink with a sparkling water, putting your glass down when at a social function and organising catch-ups with friends that doesn't always involve having a drink.
If you're having a big night out (a wedding or birthday for instance), you may go over the two glass limit, but do your best to reign it in. I try to drink as much water throughout the night as I can. The next day again drink plenty of water to ensure you are properly hydrated. (Post continues after gallery.)