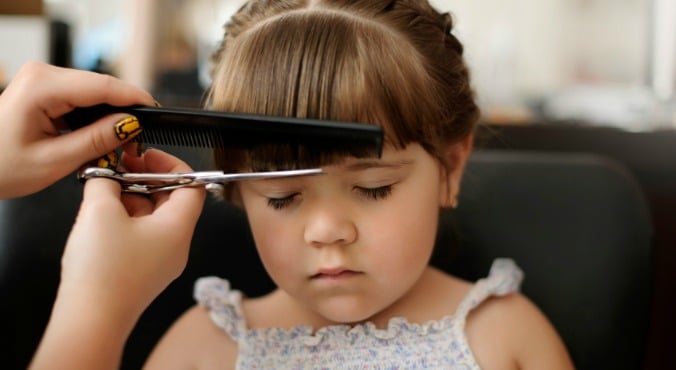 Image: iStock.
From "But I liked your hair longer" to "Guys prefer long hair, though",  remarks like this about short hair point to a lingering belief that long hair is the pinnacle of female beauty; that shorter hair isn't to be aspired to.
Unfortunately, it seems grown adult women aren't the only ones being confronted by this outdated, sexist standard.
Last year, Terri Peters went shopping to buy her four-year-old daughter a Rapunzel doll. It was a reward after she got her hair cut short after months of growing it out so it could be worn in a bun for her ballet recital.
During the shopping trip, a stranger commented on her daughter's appearance, which Peters, a Babble writer, then recounted in an open letter:
"'What a beautiful doll,' you say to her. 'Which princess is that?'
She looks at you with her silly, friendly attitude on display and says, 'Rapunzel!'
And then, you look at my perfect little girl and say, 'Well, her long hair is so pretty. You would be that pretty, too, if you had long hair.'" Watch: Mia Freedman is not stranger to short hair. Watch her latest cut. (Post continues after video.)
Ouch.
"You did not watch her sit still — and be very well-behaved for a four-year-old — while she got her new haircut. You definitely did not watch her look at herself in the mirror and smile when it was finished because she was so happy with her new look," Peters writes to the stranger.