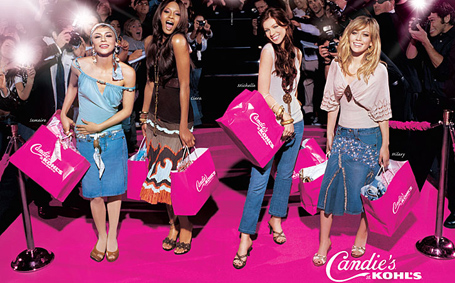 I'm a solo shopper. Always have been. For me, shopping is not a team
sport. I don't even like doing it with one friend. I shop the same way
I exercise: alone. Not that this is always successful. Oh no. The
downside to solo shopping is that there's no one to tell you that (a)
you can't afford it (b) you don't need it (c) you already own it (d)
you look bloody stupid wearing it (e) all of the above.
Last week, I met three friends for yum cha at Westfield and we decided
on an impromptu shop. As we cruised from Country Road to Zimmerman via
Tree of Life, David Lawrence, Midas and Mimco, it became apparent we
had very different shopping styles.
Jacqui* (all names change to protect credit ratings) had the most
extreme shopping personality. Over lunch, she begged us to muzzle her
wallet. "I have an ugly tax bill that's overdue," she explained "and
I'm the lead bidder on two Eastern Pearson dresses on Ebay." Okey
dokey. We agreed to play the role of killjoy male and dissuade her from
"unnecessary purchases" (such a male concept….).
Perhaps it was the MSG from lunch but from the moment we entered the first shop she got a crazed look in her eye and started grabbing things. Remembering her plea and sharing her tendency towards retail bulimia (spending binges followed by guilt purges), I thought I was doing the right thing by discouraging her from buying basic cotton tops for $125 each.
Jacqui: what do you think?
Me (instantly): no.
This exchange was repeated with some unremarkable pants and an over-priced dress. The more justifications she came up with for buying something, the more abruptly I said no. Then she got cross with me. Apparently I wasn't taking the time to give things proper consideration. When she saw me buying some of the things I'd banned her from, she nearly hit me. Hey, I'd paid my tax bill already and I was only following her 'restrain-me-please" instructions.
As the afternoon passed, Jacqui transformed into the retail equivalent of a belligerent drunk – speaking little sense and becoming aggressive when challenged.