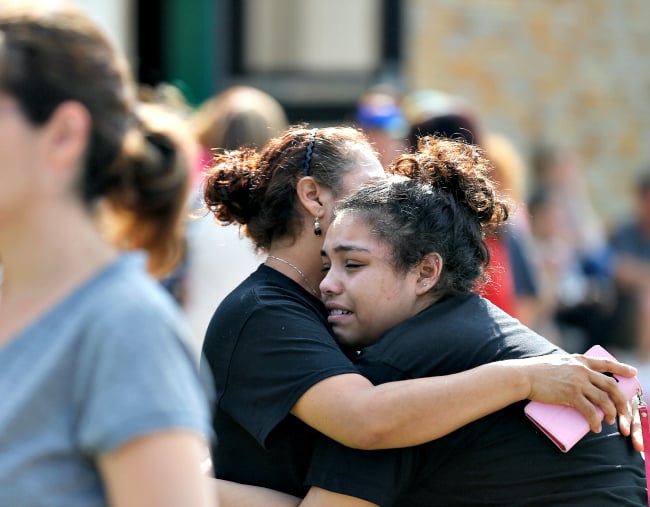 A substitute teacher and Pakistani exchange student have been confirmed as the first victims of a Santa Fe Springs school shooting massacre in Texas.
Ann Perkins, 64, a substitute teacher, mother and grandmother, was killed in the Texas school shooting. Exchange student Sabika Sheikh, who was from Pakistan, was the second person confirmed dead.
Texas officials have charged a 17-year-old student with murder following the shooting of 10 people, including fellow pupils, at his high school in an attack similar to the massacre at a Florida high school earlier this year.
Students said a gunman – who has been identified by law enforcement however Mamamia is choosing not him at this time – opened fire in a classroom at Santa Fe High School shortly before 8am local time on Friday. They fled in panic after seeing classmates wounded and a fire alarm triggered a full evacuation.
Ten people have been killed and 10 others wounded in the attack, Texas Governor Greg Abbott said.
Ann Perkins was a beloved teacher, family friend, & woman. She enjoyed spending time with her children, grandchildren, & students. She lived an impeccable life filled with traveling, love, family, & a bit of champagne. Rest easy our beautiful nurturing angel. I love you. ????☀️ pic.twitter.com/E4F1ss1hQb

— ☯︎ (@lemonylyd) May 18, 2018
Pakistani Exhange Student Sabika Sheikh was killed today in Texas in school shooting, a terrorist act. May God bless her soul & bless her family with courage to bear this loss. US Guns Laws have made it insecure for all as NRA holds US hostage and denies this act as terrorism pic.twitter.com/NEB0tLWPe7

— M. Jibran Nasir (@MJibranNasir) May 18, 2018
The Galveston County Sheriff's Office identified the shooter and said he had been charged with capital murder in a post on its Facebook page. More charges could follow.
Speaking to reporters before the teen was identified, Abbott said the suspect had used a shotgun and a .38 revolver taken from his father in the fourth-deadliest mass shooting at a US public school.
"Not only did he want to commit the shooting, but he wanted to commit suicide after the shooting," Abbott said, citing a police review of the suspect's journals.
Two other people are in custody, Abbott said.
Investigators are talking to the suspect, Steven McCraw, director of the Texas Department of Public Safety, said.
Abbott said that investigators had seen a T-shirt on the suspect's Facebook page that read "Born to Kill".
Explosive devices had also been found at the school, located about 48km southeast of Houston, and off campus, Harris County Sheriff Ed Gonzalez tweeted.
Police were searching two homes and a vehicle linked to the suspect, where they have found multiple homemade explosive devices, Abbott said.
Courtney Marshall, a 15-year-old freshman at the school, said the gunman came into her art class shooting.
"I wanted to take care of my friends, but I knew I had to get out of there," Marshall said, saying that she saw at least one person hit. "I knew the guy behind me was dead."
Orlando Gonzalez said that his 16-year-old son Keaton, fled the attack, but one of his friends was shot and wounded.
"I was really worried, I didn't know what was going on … I almost couldn't drive," Gonzalez said. "I just imagine what he's going through … He's still scared."
US President Donald Trump has addressed the shooting in a press conference, saying "we are with you in this tragic hour, and we will be with you forever."
We grieve for the terrible loss of life, and send our support and love to everyone affected by this horrible attack in Texas. To the students, families, teachers and personnel at Santa Fe High School – we are with you in this tragic hour, and we will be with you forever… pic.twitter.com/LtJ0D29Hsv

— Donald J. Trump (@realDonaldTrump) May 18, 2018
Survivors from the school shooting in Florida earlier this year, including Marjory Stoneman Douglas student Jaclyn Corin, have expressed their anger and frustration that another school has been touched by gun violence on social media.
Our children are being MURDERED and you're treating this like a game. This is the 22nd school shooting just this year. DO SOMETHING. https://t.co/Lc1IWYGssE

— Jaclyn Corin (@JaclynCorin) May 18, 2018
My heart is so heavy for the students of Santa Fe High School. It's an all too familiar feeling no one should have to experience. I am so sorry this epidemic touched your town – Parkland will stand with you now and forever. pic.twitter.com/ckVPxYi6qz

— Jaclyn Corin (@JaclynCorin) May 18, 2018
Netflix has also cancelled it's 13 Reasons Why premier party because of a scene in the series where a character brings a gun to school.
"Our hearts are with the victims of the Santa Fe High School shooting, and with all victims of gun violence," a Netflix spokesperson told BuzzFeed News in a statement. "In light of today's tragedy, we are cancelling the 13 Reasons Why S2 premiere event tonight."
This season of the popular teen drama features a scene in which a character brings a gun to a school event for the purpose of killing other students.
With AAP.