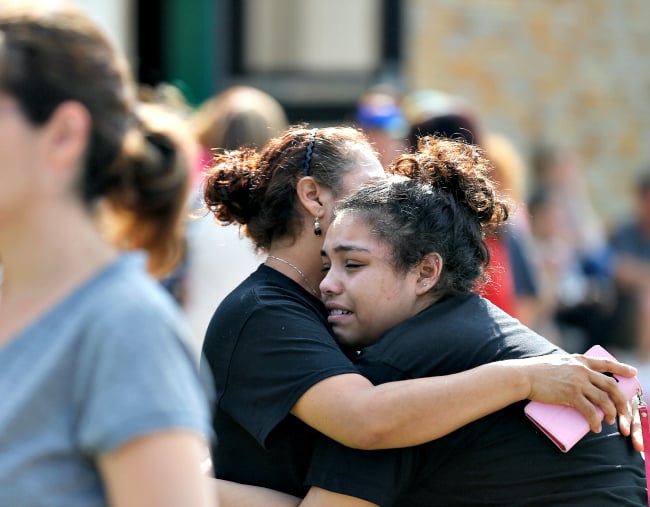 A substitute teacher and Pakistani exchange student have been confirmed as the first victims of a Santa Fe Springs school shooting massacre in Texas.
Ann Perkins, 64, a substitute teacher, mother and grandmother, was killed in the Texas school shooting. Exchange student Sabika Sheikh, who was from Pakistan, was the second person confirmed dead.
Texas officials have charged a 17-year-old student with murder following the shooting of 10 people, including fellow pupils, at his high school in an attack similar to the massacre at a Florida high school earlier this year.
Students said a gunman – who has been identified by law enforcement however Mamamia is choosing not him at this time – opened fire in a classroom at Santa Fe High School shortly before 8am local time on Friday. They fled in panic after seeing classmates wounded and a fire alarm triggered a full evacuation.
Ten people have been killed and 10 others wounded in the attack, Texas Governor Greg Abbott said.
Ann Perkins was a beloved teacher, family friend, & woman. She enjoyed spending time with her children, grandchildren, & students. She lived an impeccable life filled with traveling, love, family, & a bit of champagne. Rest easy our beautiful nurturing angel. I love you. ????☀️ pic.twitter.com/E4F1ss1hQb

— ☯︎ (@lemonylyd) May 18, 2018
Pakistani Exhange Student Sabika Sheikh was killed today in Texas in school shooting, a terrorist act. May God bless her soul & bless her family with courage to bear this loss. US Guns Laws have made it insecure for all as NRA holds US hostage and denies this act as terrorism pic.twitter.com/NEB0tLWPe7

— M. Jibran Nasir (@MJibranNasir) May 18, 2018
The Galveston County Sheriff's Office identified the shooter and said he had been charged with capital murder in a post on its Facebook page. More charges could follow.