Oh, Eliza Wilson, we hardly knew thee.
(Except for the fact that we totally did because season nine of Masterchef Australia has been on our screens almost every night for 10 weeks.)
But if there's one thing fans of the show are feeling after last night's elimination, is that Eliza was robbed. ROBBED I TELL YOU.
Because the 30-year-old theatre nurse from Victoria was never meant to be up for elimination in the first place. She was only subbed in because her fellow contestant, Sarah Tiong, decided to play the all-powerful immunity pin.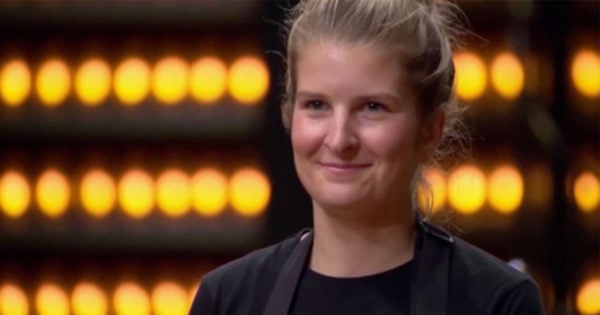 Wilson had never experienced a pressure test or an elimination cook-off during her whole time on the show—but last night, her first became her very last and she was sent home.
It's one of the cruelest twists of fate we've seen on the show and fans were definitely feeling it.
ELIZA! Taken down by the pin! #masterchefau pic.twitter.com/xqrXBXU6nm

— Scoopla (@Scoopla) July 13, 2017
Others claimed that fellow contestant Tamara Graffen should have been sent home instead.
Eliza was not supposed to be in this elimination. How many chances do you want to give Tamara. bad bad bad ! #MasterChefAU

— Ruskin31 (@Ruskin31) July 13, 2017
I'm so disappointed that Eliza is out. She didn't deserve to go tonight. #MasterChefAU

— Tenpou Gensui (@tenpou) July 13, 2017
So angry ???? No way Tamara deserves to make it to finals week over Eliza! #MasterChefAU

— Lauren Michelle (@_LauzMichelle) July 13, 2017
Even the Masterchef judges themselves were shocked that they had to send Wilson home.
"None of you deserves to go home but it is a competition and one of you has to," George Calombaris told the three chefs "cooking for their lives."
LISTEN: The Binge hosts Clare and Laura have some advice for the Masterchef contestants...
"After nine years, we're used to shocks in this competition and today's elimination is a shock," Matt Preston added.
"We don't think anyone has cooked as consistently and as well in the competition as you have."
It seems the only person not floored by the results of last night's cook-off was Wilson herself.
She told News Corp Australia that she has no hard feelings against Tiong for throwing her into the sudden death round.
"We had a chat about it the night before and I fully supported her decision," Wilson said.
"[Sarah] was feeling really bad about it... I tried to reassure her she was making the right decision.
"That is what she had the pin for and she had worked so hard to get it."
Listen to the latest episode of Mamamia's TV podcast, The Binge:
Stay on top of all the TV and movie news you love and sign up for The Binge Newsletter here.