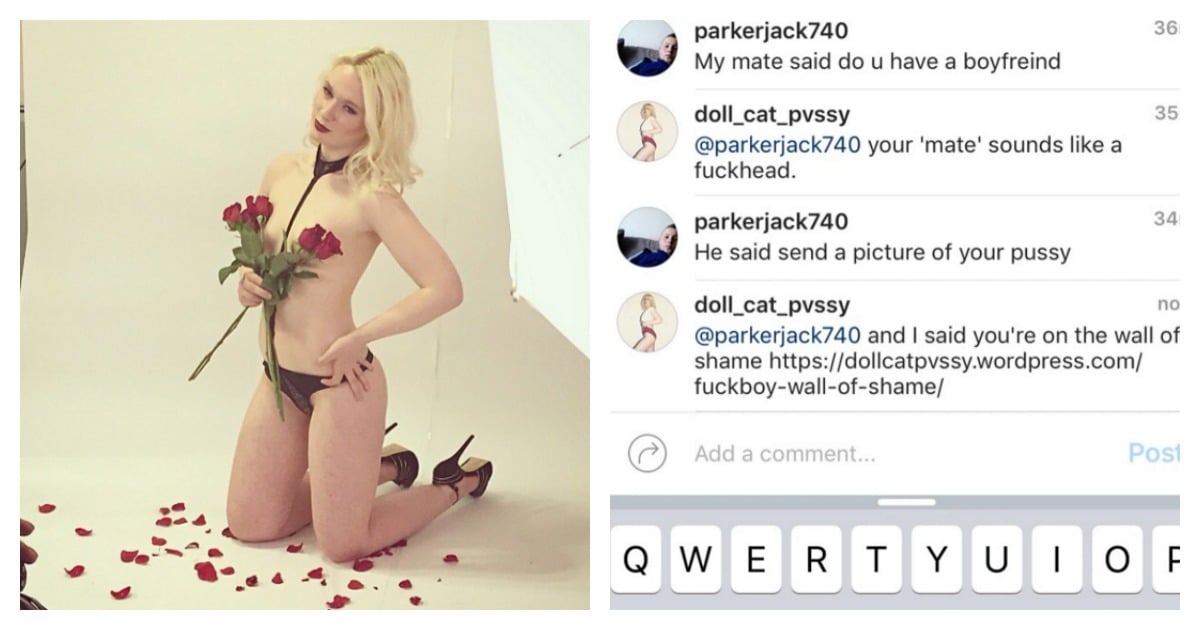 It was a private message via Instagram, a response to yet another sexy photo Doll had posted of herself modelling designer underwear.
"Thanks for sharing," he wrote to her. "If you want to see a stranger get off looking at you, just ask."
His profile picture shows a dorky, 30-something year old guy in a neat black polo shirt and glasses, his hair combed to the side. He looks like just another geek, trying his luck at chatting up a woman he's seen online. In fact, if he wasn't proposing to a perfect stranger that they watch as he masturbates over them, you could almost feel sorry for him.
But for lingerie blogger and writer Doll, this kind of message is not acceptable.
"Fuck off," she replies. "I have clearly stated that my account is for women or for people [who] have an appreciation for lingerie. I am not here for men who will see me as a sexual object for voyeuristic pleasures. That is why my account is on private. Do not try this again."
The screenshot of this exchange is up on Doll's 'F*ckboy Wall Of Shame', a name-and-shame page dedicated to the infinite number of men who send her inappropriate, rude, sexual, or downright scary messages online.
And that message? It wasn't even the worst.
If anything, the message above pales in comparison to some of the abuse Doll has received online during her time as a lingerie blogger.
There have been hundreds and hundreds of dick pics, descriptions of masturbation and other sexual acts, and straight-up harassment in which she's been called a 'slut', a 'whore', and a 'fucking bitch'.
She's even had women sending her obscene messages, like this girl – who's boyfriend she had never met: