Angela and Sheila were unlikely friends.
They were roomed together in freshman year at college, and when Sheila discovered Angela was a morning person – whereas Sheila very much enjoyed sleeping in – she had her concerns.
"I called her Angie…" Sheila, who lives in Dallas, Texas, told Mamamia. "She was what I called a triple play; she was beautiful, she was kind and she was smart."
Angela had a lot of friends, and was studying computer science. It was 1984, and Sheila remembers saying to her one day: "Why are you always doing these overnighters in the computer science department? It's a fad. It's never going to take."
She laughs about it now. Angela knew exactly what she was doing, but she wouldn't live long enough to see just how far her skills would take her.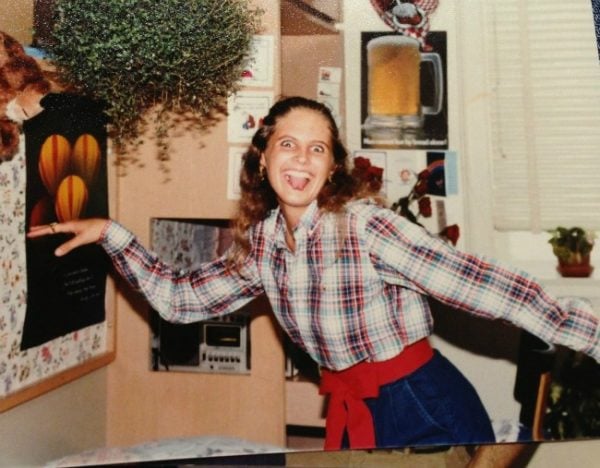 Sheila was at home with her family in North Texas when she received a phone call from Angie's sorority sister, Barbara, who could not stop crying.
"My initial reaction was Angie has been in a car accident," she told Mamamia. 
"I hate this part," Sheila said before pausing.
"My friend kept crying... because I was like, 'what hospital is she in, where is she?'"
But Barbara wouldn't answer.
Eventually, Sheila simply said: "Is she dead?"
Her instincts were right. Barbara told her Angela had died that night.
Listen: The year that was true crime. Post continues. 
It had been a cold night on October 12, and Angela had decided to go barhopping with two friends. The State Fair of Texas was underway, and tens of thousands of people were out on the streets, ready for the Red River Showdown.
The three friends, Angela, Anita Kadala and Russell Buchanan, ended up at dance club called the Rio Room. At 1am, Angela drove her friends home, and according to official police reports, dropped into her boyfriend's apartment to say goodnight.
But later that night, after Angela had returned home, her boyfriend received a call from her. "Talk to me," was all she said, before the call was disconnected.
Her boyfriend panicked. He tried to call back, over and over again, but she didn't answer. He then decided to drive over to her house, but found her door locked, and Angela wasn't answering.
He was a construction supervisor, and happened to have a mobile phone in his car, so used it to call police. Soon, they arrived, and knocked down the door.
Angela was lying on her bed, naked and covered in blood, with her legs dangling over the side. Next to her was her giant stuffed rabbit.
The 20-year-old had been stabbed 18 times. The officer who found her says he still remains haunted by her piercing blue eyes, which were wide open.
"From that day to this one, I could close my eyes and see Angela," he said.
Sheila's overwhelming response to the news, along with the grief, was fear. For weeks, she slept on her mother's bedroom floor.
"I never knew evil existed," she said.
At just 22 years old, Sheila was also desperate to know who had done this to one of her closest friends.
Initially, she said, she believed it had been Angela's ex-boyfriend. He had been violent and controlling in the past, and one night he had shredded all of Angela's clothes and pulled a knife on her, which ended with the police being called.
"Of course he did it," Sheila thought. But it wasn't long before they eliminated him both because of his blood type and his "rock solid alibi".
The alternative was Russel Buchanan - the young man who had been bar-hopping with Angela the night she was murdered.
Police believed Buchanan had wanted more from Angela, and when she refused him, he had raped and killed her.
A detective on the case requested Sheila go out to dinner with Buchanan, at this point the prime suspect, to see if his story was consistent. She was required to wear a wire, while undercover officers sat nearby.
"I'm thinking 'I'm sitting here having dinner with a murderer'", Sheila told The Washington Post. 
But Buchanan's story added up. Although police continued to believe he did it, there was no evidence; they were at a dead end.
Weeks turned into months, which turned into years.
Then, in 1994, Sheila was laying in bed watching the OJ Simpson trial. "They said they could actually take that DNA and put it to a person then I thought 'Well, we got a little hope here,'" Sheila told Inside Edition.
Blood, semen and fingernails had been found at the crime scene. Surely they held clues as to the identity of the killer, Sheila thought, and so contacted an organisation who specialised in cold cases.
Immediately, they refused. She didn't work for the police, and when it came to the criminal justice system, she was virtually powerless.
But of course, Sheila never forgot about Angela, and 10 years later, in 2004, something very strange happened.
Sheila found herself reading the Book of Daniel in her bedroom, and saw, out of the corner of her eye, Angela.
"I'm dyslexic so any time I have to sit down and read something it's just a big deal to me... I don't know if it was a dream state or what... but Angie was there on the right side of my bed.
"She didn't say anything. Not a thing. It was just her. And I knew it was time."
Something about that moment changed Sheila - and she picked up the phone and called Dallas police.
They told her Angela's file had been lost in a flood and there was nothing that could be done. The case was cold.
"Most normal people would stop calling," Sheila said. "But I didn't." In total, Sheila would call the police no less than 750 times.
Angela, in Sheila's mind, had come to her in that moment for a reason. It was, in Sheila's words, "time to get this done".
That's when Sheila made the decision to train as a private investigator. It was the only way, she realised, she would ever be taken seriously by the police.
The mother-of-three created what she terms a 'war room' in her home, where she collated all the facts of the case. The Dallas police dismissed her, saying "some cases just aren't meant to be solved."
"Well, this one's going to be," Sheila thought.
And she was right.
Dallas police gave detective Linda Crumb the task of reopening the cold case, and testing the DNA with the new technology available to them.
Then, one day, after persisting and persisting, Sheila received a phone call.
They'd found him.
His name wasn't Russell Buchanan. In fact, it was a name Sheila had never heard before: Donald Bess.
Sheila attended the trial, and watched as a white haired, six foot four, 350 pound man (more than 150 kilos), walked into the court room. "He was the last person Angie saw before she passed away..." Sheila said, "and I've never seen or felt as much evil as I did in that moment."
Bess was a convicted rapist who was already serving a life sentence at Huntsville Prison in Texas. Prosecutors believed that on the night in question, he'd knocked on Angela's door begging to use her bathroom and she had let him in. Spooked, she'd called her boyfriend - but it was too late. After the line had gone dead, Bess had raped and murdered Angela.
In 2010, 26 years after he committed the crime, Bess was convicted and sentenced to death row. As it stands, he does not have an execution date.
"Do I want him to die? No," Sheila told Mamamia. "Do I want him off the streets? Yes. He should not be in society. He is where he is supposed to be."
Sheila, 55, is now a licensed private investigator. She began by looking at cheating and cyber-bullying cases, but now focuses on cold case murders.
At first, she assumed she would retire once Angela's murder was solved, but instead the 55-year-old found herself reinvigorated, receiving countless letters from people who were driven by the same desperation for answers she once had.
She now runs her own firm, called Without Warning Private Investigation.
Most of her clients are mothers, who simply want to know what happened to their child who was taken from them.
Her job is to determine what precisely happened the day or night their loved one lost their life, and then she passes the case on to the District Attorney or a lawyer to file a wrongful death claim.
The gift she ultimately gives families, is peace. The peace of knowing what happened to a person they loved more than anyone in the world, and the hope that perhaps one day their perpetrator will be brought to justice.