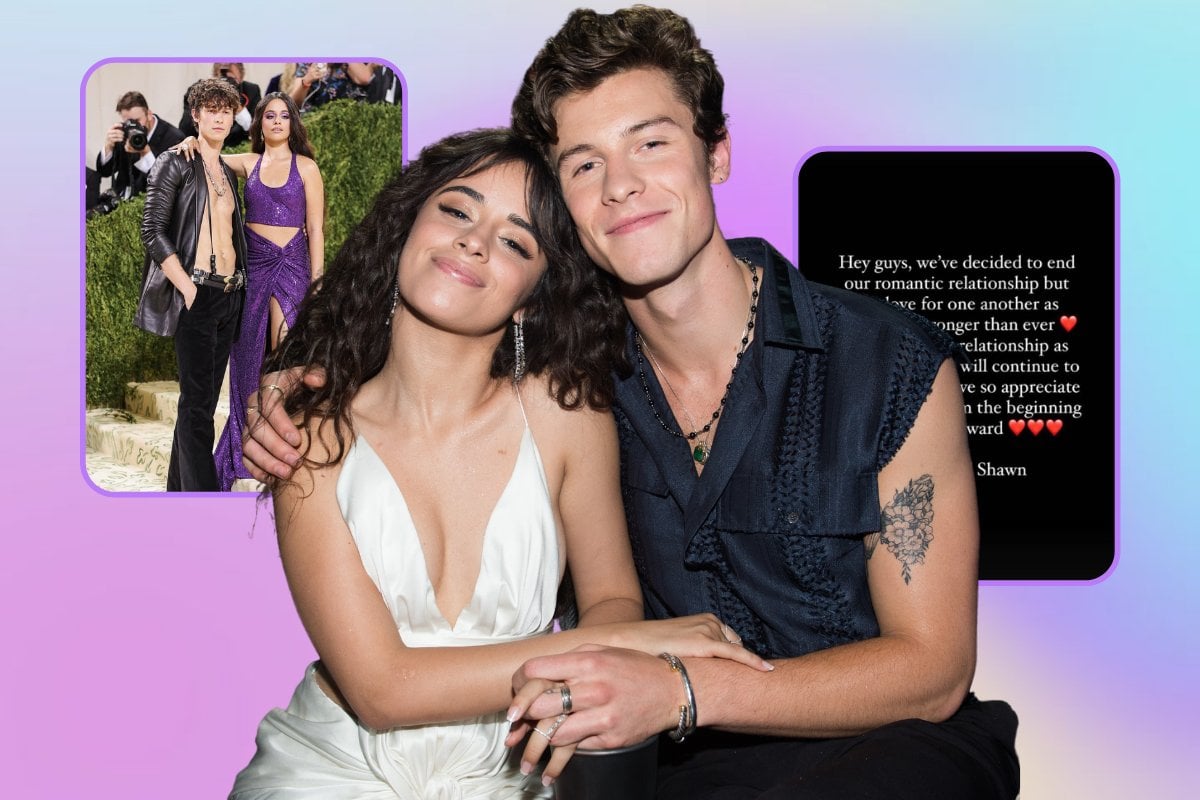 It's been a big week for celebrity break ups.
Supermodel Kaia Gerber and Euphoria actor Jacob Elordi reportedly broke up after a year of dating, and Australian actor Hugh Sheridan and their fiance Kurt Roberts announced their split after being engaged for eight months.
But there was one celebrity split that took place this week that's left people a little shocked; one that people always thought was a publicity stunt but looked like it was lasting the test of time. And that's musicians Camila Cabello and Shawn Mendes.
Watch: How some of your favourite celebrities met. Post continues after video.
Camila Cabello, now 24, and Shawn Mendes, now 23, met back in April 2014 while they were both opening acts for Austin Mahone's tour. 
Speaking to V Magazine in 2019, the musicians reflected on that time together.
"We met on the Austin Mahone tour, and I remember I wanted to hang out with you, but you were always on the tour bus, just learning guitar," the former Fifth Harmony member said. 
Mendes replied, "Yeah, that was me. I didn't talk to anybody. You were the only person that talked to me. Like, you were the only one of everybody on that tour who would say words to me."
The following year in November, the pair dropped their first song together: 'I Know What You Did Last Summer', which sparked dating rumours. 
Then in March 2017, Cabello and Mendes posted a video of themselves covering Ed Sheeran's song 'Kiss Me'.
In June 2019, the musicians dropped their second song together, 'Señorita', which further stirred relationship speculation with the lyrics: "You say we're just friends / But friends don't know the way you taste."
The following month, TMZ photographed Cabello and Mendes holding hands in West Hollywood and kissing in San Francisco.
In August 2019, Mendes turned 21 and celebrated with a party, where he was seen kissing Cabello. That same night, Cabello seemingly confirmed their relationship in a celebratory Instagram post.