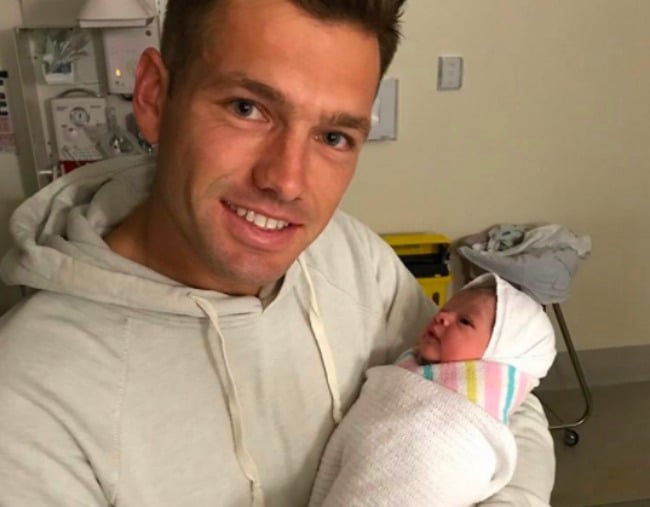 This morning, AFL star Shaun Higgins announced the birth of his first child with wife Heidi on Instagram.
"Welcome to the world, Rosie Joan," he wrote alongside some beautiful photos of his newborn baby.
Some three hours later, Higgins was running onto the ground at Docklands Stadium donned his North Melbourne kit, readying himself to take on Hawthorn.
Deep into the third quarter while approaching a contest, Higgins was knocked out cold with a concussion after a shoulder to the head from Hawthorn's Ryan Burton. Despite only meeting his first child just hours before, Shaun Higgins lay on the turf of Docklands stadium, unmoving.
"I am not sure that he will remember the day that his first was born now. This is not good," Channel 7's commentary team noted.
The moment Shaun Higgins was concussed against Hawthorn. Watch at your own peril. Post continues after video.
While the scenes were certainly uncomfortable for fans on Sunday afternoon — bearing witness to a motionless Higgins sprawled on the ground — North Melbourne's CEO Carl Dilena confirmed at three quarter time Higgins was moving his fingers, arms, toes and was talking.
"I was down in the rooms and the good news is that he has got his faculties back and he is moving his fingers and toes and talking. He was actually more worried about the welfare of his wife in hospital with the birth of their first child. He will go to Epworth for scans as a precaution. He seems to be OK," he said.
The impending arrival of baby Rosie made headlines during the week, with Higgins emphatic that he would miss a game of football if his wife fell into labor in the hours before a game.
"My priority is the birth. If the baby comes on game day or the hours around game time, then I'll miss but I'll prepare to play and let mother nature run her course," Higgins told nmfc.com.au.